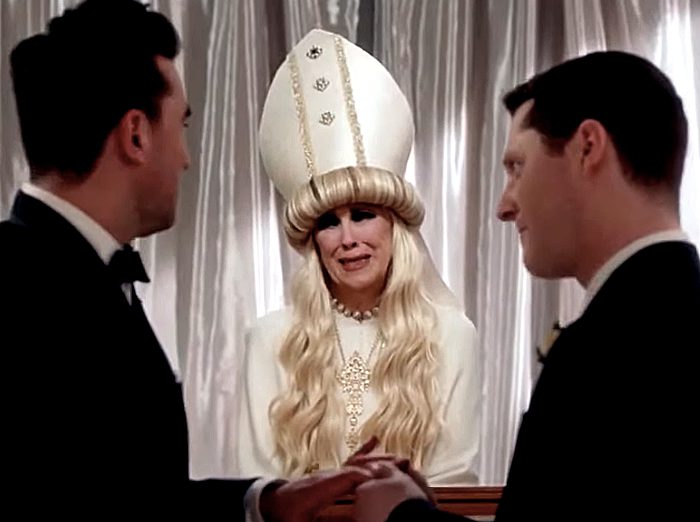 'Uh-oh, Catholics gonna hate this,' said I to my husband Marcus as we watched Moira Rose, dressed like a Pope, perform a marriage ceremony for her son David and his lover Patrick in 'Happy Ending', the final episode of the award-winning Canadian sitcom Schitt's Creek.
There are a few other digs at religion in a TV series one Christian writer suggested was "best suited for the thick-skinned (perhaps the desensitized) Christian viewer."
In one scene, as the family does a group hug, a puzzled David asks "are we praying." As I remember it, his mum snaps "don't be ridiculous!"
Another reviewer huffed:
Schitt's Creek was created by a family and is about a family, but that doesn't mean it's appropriate for your family.
I was reminded of the six-series show by a report yesterday in The Christian Post about TV entertainment getting "darker and darker" – and it wasn't about the fact that, nowadays, we are seeing a great many more amazing black actors in key roles our screens.
No, the complaint was that:
There's so much gratuitousness in television today; it seems to get darker and darker. I don't know another reason than that the devil is out to destroy our society with images and things like that.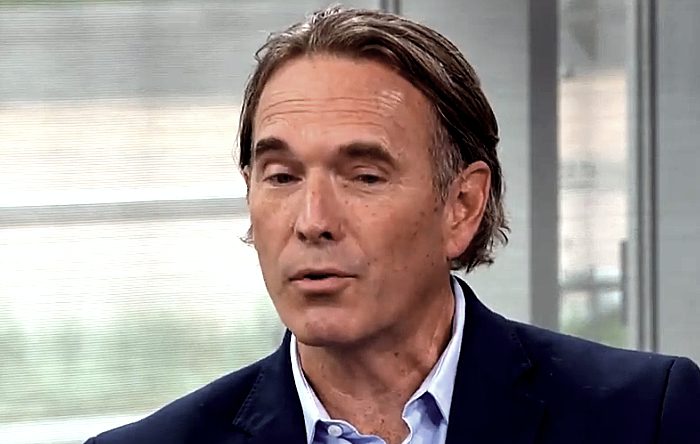 That was Todd Terry, above, speaking. He's an American actor who "asks God for guidance before taking new roles." Which probably accounts for the fact that he's only made three movies.
His latest role is in a new "faith-centric" TV crime series, Vindication, produced as an "outreach" of Retta Baptist Church in Burleson, Texas.
It's streaming on Pure Flix, a platform for nauseating "wholesome Christian entertainment." Puke Flix made headlines for its 2014 turkey God's Not Dead, "a hellishly bad drama about America's Christian persecution complex."
Terry went on:
I think it's important to create a sense of purity in the messages that we put out and strive to keep our minds as clean as possible … I think it's possible to portray a positive Christian drama with a faith-based message without all that stuff.
Terry stars as Detective Gary Travis a series that does have some violence and deals with heavy themes like addiction, sex trafficking, abuse and rape. But, as Terry noted, the Bible itself is full of violence and complex issues. Yet it presents them in such a way that isn't:
Offending to the senses. I think this show really reflects the way the Bible presents violence. We present violence in a way that's not gratuitous in a way that I think would offend, but it also brings up relevant talk topics such as sex trafficking and things that are in our society today. Kids need to be aware of these things because it is the world we're living in.

This show has a strong faith message but it doesn't hit you over the head with it. But you see him [Detective Gary Travis' live out his daily walk and his Christian faith in the real world, and that's what I like.
Terry must have been reading a very redacted version of the Bible to have come out with this "no gratuitous violence" in the Bible bullshit.
Huffpost has the Top Ten most violent stories from the Hebrew Bible and the New Testament.
• Please report any typos/errors to barry@freethinker.co.uk
If you'd like to buy me a cup of coffee – and boy, do I get through a LOT of coffee keeping this site active – please click the link below.
I'd love a cup of coffee