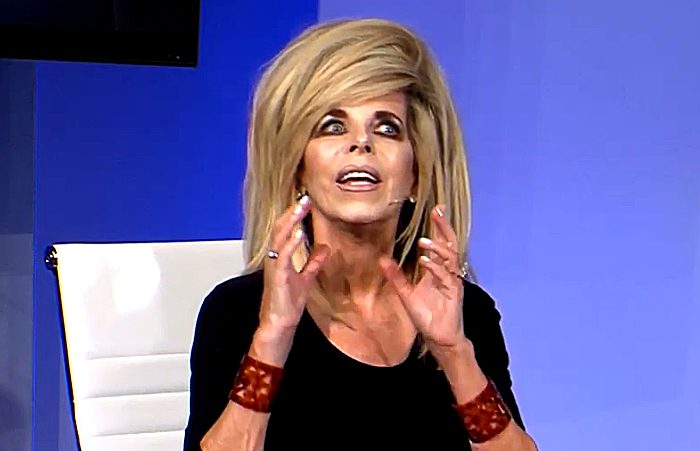 GWEN Shamblin Lara, above, the multi-millionaire founder of a cult-like church in Tennessee that preached that overeaters risk eternal damnation, died at the weekend along with six others in a plane crash.
In a statement, Remnant Fellowship, founded by the "diet guru" as a faith-based church for Christians wanting to shed flab for Jesus, paid tribute to those who died.
The seven Remnant Fellowship leaders lost May 29, 2021 were some of the finest and most loving people that you would ever come across. During this horrible tragedy, our church would greatly appreciate prayers.
The Cessna 501 was carrying seven people when it crashed into Percy Priest Lake in Smyrna, a community near Nashville, shortly after taking off from the Smyrna airport, officials said.
A registered dietician, Lara, 66, created the Weigh Down programme, which encouraged dieters to strengthen their faith in God by losing weight. In 1998, she told CNN's Larry King that she believed God had led her to become a dietician.
Her daughter, Elizabeth Hannah, said:
The seven Remnant Fellowship Leaders lost yesterday, including my husband and my mother, were some of the finest, most righteous and loving people I have ever known. I want the entire world to know that my mother, Gwen Shamblin Lara, was the kindest, most gentle, selfless, loving mother and best friend to me and my brother.

Her actions and words changed thousands of lives for the better — and her message of 'Loving GOD with ALL your heart' – will live on forever and ever –and continue to change lives for all eternity.
Melba Newsome was one of thousands who signed up for the Weigh Down programme. In 2009 she wrote:
Weight loss advice was overshadowed by rhetoric implying that overeaters are courting eternal damnation. In class videos, Shamblin was self-righteous, her tone dictatorial. Gradually, I realized that Weigh Down had become a recruitment tool for the church Shamblin founded in 1999.

Newsome quoted Raphael Martinez, a minister in Cleveland, Tennessee, as saying:
They are hierarchical, authoritarian and demand unquestioned submission.
She revealed that when Lara's programme started getting dumped by churches and Christian bookshops for preaching the "wrong" kind of Christiantiy, she complained of "religious persecution" – and asserted the attacks were confirmation of her calling.

I feel like God has placed me as a go-to person, a kind of a pioneer. There are always going to be attacks on me … they killed Jesus, they killed Peter, they killed Paul. What they've tried to do is kill my reputation.

Newsome also quoted Amy Hartman, a 32-year-old research associate in Indianapolis, who embarked on the Weigh Down programme only to discover that it uses uses "guilt and shame" to keep dieters in line.
I became very anxious about overeating because it was a sin. I ate no more than 8 to 10 bites at each meal.
Hartman lost nearly 25 pounds in two months. (Most experts recommend dropping eight pounds or less a month for healthy and sustainable weight loss, though obese people might safely lose a little more.)
Lara's husband Joe who also died in the crash, was an actor best known for playing the lead role in the TV series Tarzan: The Epic Adventures, which ran from 1996 to 1997.
Hat tip: Tom Hora
• Please report any typos/errors to barry@freethinker.co.uk
If you'd like to buy me a cup of coffee – and boy, do I get through a LOT of coffee keeping this site active – please click the link below.
I'd love a cup of coffee