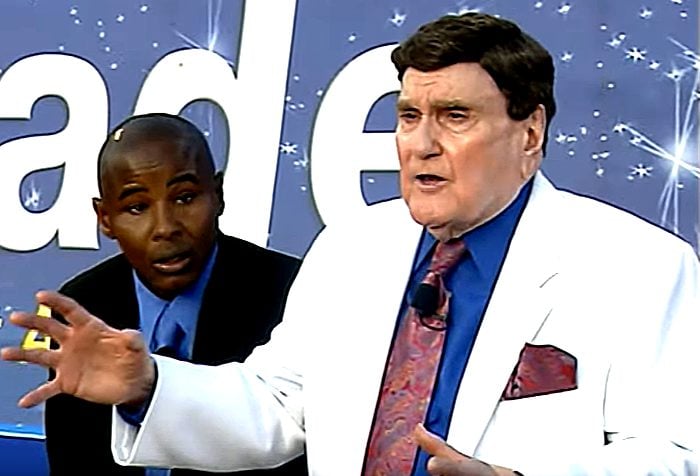 TELEVANGELIST Ernest Angley, above, the butt of many jokes because of his grotesque wig and comical way of speaking – ('must watch' video) – has fallen off the perch aged 99.
Dubbed 'The Rev Ernest Angry' by the late actor and comedian Robin Williams, Angley (net worth $15-m) shared the traits of all evangelical preachers. He was a liar, a crook, a charlatan and a hypocrite.
According to USA Today, his "sometimes-outrageous" faith-healing claims drew sharp criticism from many, including officials in Munich, Germany, who arrested him in 1984 on charges of fraud and practicing medicine without a license. He ran into a spot of bother too in Guyana, where, in 2006, officials blasted him for claiming he could cure AIDS.
Brought up in a Baptist family in the 1920s, the North Carolina fraudster "turned into a Christian" in 1939 when he was 18 years.
Married and living in Ohio by the 1950s, Angley acted as a voyaging Pentecostal confidence healer and evangelist with nothing to his name other than a tent, camper and a Bible but soon gained enough support and cash to buy Grace Cathedral in Cuyahoga Falls, Ohio, and in addition the nearby Channel 55 TV.
In announcing his death Ernest Angley Ministries said:
Pastor, evangelist and author Rev. Ernest Angley has gone to Heaven to be with his Lord and Master at 99. He touched multitudes of souls worldwide with the pure Word of God confirmed with signs, wonders, miracles and healings. He truly pleased God in all things.
Some of that "touching" involved male genitalia.
A six-part Beacon Journal investigative series in 2014 claimed that he was a gay man who encouraged childless men to have vasectomies – and personally examined the genitals of the male parishioners before and after their surgeries.
It should come as no surprise that Angley vehemently preached against the "sin" of homosexuality.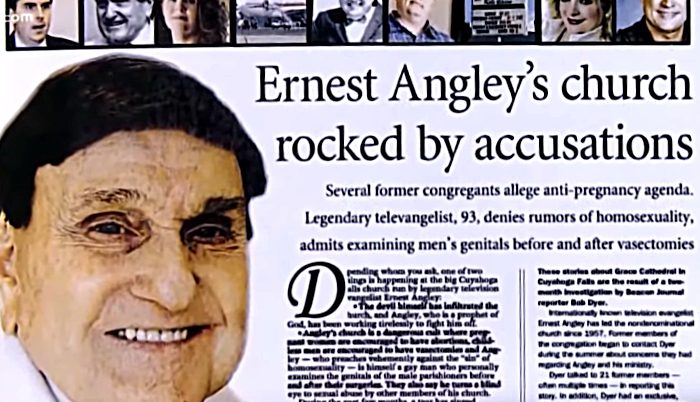 Twenty-one former church members accused the creepy preacher of running "a dangerous" cult, and detailed accusations of wrongdoing by Angley. Those including encouraging women to have to have abortions and turning a blind eye to sexual abuse by other members of his church.
Angley agreed to an interview before the Beacon Journal expose. During a 90-minute meeting in his office, he vehemently denied all of the accusations, claiming everyone was lying.
Four years later, one of the people mentioned in the series, former Assistant Pastor Brock Miller, filed a lawsuit against Angley and the church, claiming that Angley had sexually abused him off and on for nine years. Miller said he finally quit his job in 2014 because he could no longer handle the abuse.
Angley and the church counter-sued for defamation. An out-of-court settlement was reached in February 2020 for an undisclosed amount.
In early 2019, a former church member gave the Beacon Journal a 1996 tape-recording of a telephone conversation in which Angley admitted to having sexual relations with a male employee. The person on the other end of the call, the Rev Bill Davis, a former longtime Angley associate, confirmed the tape was genuine.
The final installment of the Beacon's 2014 series drew the attention of the US Department of Labor. After an investigation the following year, the department sued Angley for $388,508 for back wages and damages. The suit alleged violations of of minimum wage, overtime, record-keeping and child labour laws involving 238 current and former employees.
Angley appealed, saying the employees were volunteering to do "God's work," but in 2017 a judge upheld the ruling, and Angley shut down his Cathedral Buffet restaurant a few weeks later.
In 2018, however, the US Sixth Circuit Court of Appeals reversed that ruling and sent the case back to the district court for potential further action. A three-judge panel disagreed with the district court's assertion that restaurant employees were "coerced" into working for free, making a distinction between "economic coercion" and "spiritual coercion."
• Please report any typos/errors to barry@freethinker.co.uk
If you'd like to buy me a cup of coffee – and boy, do I get through a LOT of coffee keeping this site active – please click the link below.
I'd love a cup of coffee