AMBER Adler is the first Orthodox Jewish woman to run for city council in her Brooklyn district, which includes a number of ultra-Orthodox neighborhoods.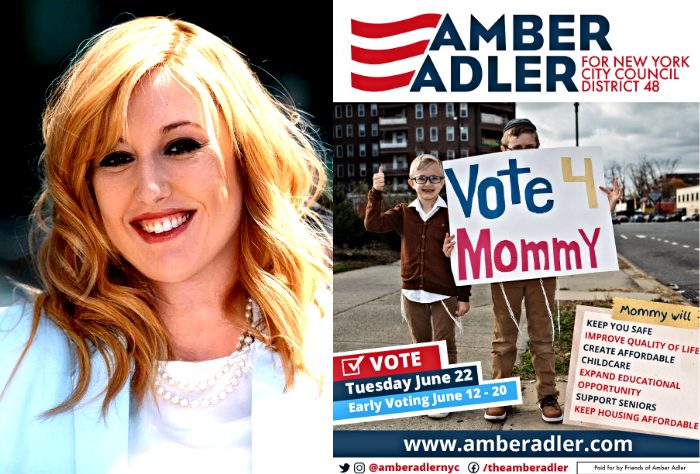 But because many Ultra Orthodox media outlets in the area refuse to carry any female faces, the 37-year-old started using images of her two sons – aged 7 and 9 – holding up signs on her behalf.
And that infuriated at least one reader called Monica who commented on a Jerusalem Post report about the erasure of women:
A level-headed mother doesn't manipulate, parade, and use her children in order to advance her political agenda and aspirations. It's clear that Amber Adler is NOT level-headed and certainly doesn't deserve a vote. The celebration will be when a truly worthy candidate handily defeats her.
No sympathy either from Moishe, who wrote:
If Haredi magazines choose to not publish photos of women, that is their business, they are privately owned, just as Google and Facebook. My guess is that Muslim magazines have the same policy – are you upset about that, too?
Hannah Dreyfus, writing for Politico, dug deeper into the issue.
As she heads toward her June 22 primary, she's a victim of a fairly recent trend among Jewish media outlets in Orthodox neighborhoods in the United States: a refusal to publish photographs of women and girls for religious reasons. Which means if Adler wants campaign ads printed in the Jewish news, she can't be in most of them.

For Adler, who is only the second ever Orthodox woman to run for publicly elected office in Brooklyn, the visual gag-order is yet another hurdle in an uphill campaign. She is butting up against expectations that Orthodox women don't assume positions of communal authority and should instead stick to more internal-facing roles
Dreyfus points out that the erasure of female images from Orthodox media began over two decades ago as a fringe movement in insular Hasidic neighborhoods in Israel (Hasidism is a subgroup of ultra-Orthodox Judaism known for its particularly stringent positions and mystical leanings). The practice is not explicitly dictated anywhere in Orthodox law.
She explained that it grew out of the Talmudic injunction that men must "guard [their] eyes" against immodest and potentially arousing images — a directive designed to prevent any sort of seminal emission not intended for procreation, including masturbation, which is a matter of grave concern in Orthodox law.
Countless rules — including those dictating the dress and behavior of women — have been justified in the name of safeguarding men against this supposed infraction.
She adds that:
Over the past several years, a practice previously relegated to the fringes of ultra-Orthodoxy has picked up momentum and penetrated more diverse Orthodox circles in the United States, as publishers, business owners and even politicians stretch to accommodate their most extreme contingents.

In more modern Orthodox groups, women continue to be featured in local media. But, in the growing number of communities that include people who consider themselves 'ultra-Orthodox – which includes Hasidic sects headquartered in Brooklyn and upstate New York and non-Hasidic groups spread across Brooklyn, Queens, Long Island and pockets of New Jersey – the erasure of women from local media is now common.

Pick up any magazine or newspaper at a local kosher grocery store in Williamsburg, Crown Heights, Borough Park or Midwood, and chances are the pages will be scrubbed of female faces.
Ari Hirsch, editor of a local Jewish weekly in Brooklyn that has a circulation of about 25,000 won't feature females despite being told by "numerous rabbis" who said there's no problem with running pictures of women.
Still, he said his publication chose to scrub female images a couple years ago, after the paper's editorial staff found out that many segments of the Hasidic community:
Would not take the paper into their homes if it had photographs of women. We have a large circulation in Borough Park. We're not going to risk alienating a significant portion of our consumer base.
In 2018 the popular English-language ultra-Orthodox Mishpacha magazine was been slammed for blurring the faces of women in a photo of the liberation of children from a Nazi death camp. The newspaper said it was a mistake, but did not replaced the photo in the online version of the story.
In a Times of Israel op-ed, Leslie Ginsparg Klein wrote that response in to criticism, Mishpacha, which won't even publish pictures of girls over five, defended its policy of erasing women with the claim that:
Like all ultra-Orthodox media, we respect the rules set by rabbinical leaders 70 years ago to not publish pictures of women.
Klein wrote:
In the absence of images of modest women, the only images of women that boys and girls see are those of the secular media, which are oftentimes inappropriate by Orthodox standards.

From an educational perspective, boys and girls need positive images to counteract the negative images they absorb from the media, and girls need modest role models to emulate. However, there are none. Instead, there is a policy that hypersexualizes women and girls, suggesting that even their faces are obscene.

Instead of absorbing the messages of images of couples and families that reflect a normal, frum [religiously observant], healthy lifestyle, our children read books and see advertisements that show Shabbat tables with no mothers or sisters. This reality is damaging the spiritual health of the community and making it significantly harder to properly teach the concept of a healthy tznuis [modesty] and body image to girls and boys.

Additionally, erasing women contributes to the mistaken perception that women in Orthodoxy are second class citizens who should not be seen and are excluded from the public sphere. It leads to feelings of disenfranchisement in frum women and girls.

It's problematic enough that Mishpacha and the like are erasing women from the present, but now they seem to be erasing women from the past as well.
• Please report any typos/errors to barry@freethinker.co.uk
If you'd like to buy me a cup of coffee – and boy, do I get through a LOT of coffee keeping this site active – please click the link below.
I'd love a cup of coffee