AS if turning folk into walking magnets weren't bad enough, vaccines will put those who administer them in the awkward position of having to answer to The Almighty for meddling with people's genes.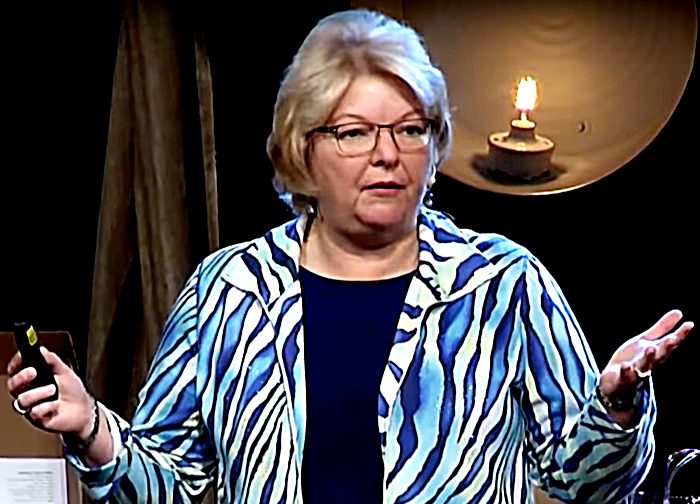 Addressing the Ohio House Health Committee on Tuesday, Dr Sherri Tenpenny – a "super-spreader of vaccine disinformation" – said:

For those of you that say that you are Christians, what will your life review look like at the end of your life?. Will the Lord say to you something like you coerced people to be injected with this gene modification technology that irreversibly disrupts your chromosomes?
That quote appeared in Newsweek, which also reported that, throughout her testimony, Tenpenny repeatedly claimed the COVID-19 vaccine will alter a person's genetic makeup.
Tenpenny also took issue with the vaccine's side effects, pointing to the rare cases of blood clots and claims that those receiving vaccines are becoming "magnetised".
I'm sure you've seen the pictures all over the internet of people who've had these shots, and now they're magnetized. They can put a key on their forehead, it sticks. They can put spoons and forks all over them, and they can stick. Because now we think that there's a metal piece to that.
Bill McCarthy of PolitiFact yesterday wrote:
Those claims are baseless. There are no metallic ingredients in any of the COVID-19 vaccines approved in the U.S. for emergency use, from Pfizer-BioNTech, Moderna and Johnson & Johnson. The Food and Drug Administration has published the ingredients for each online.
He quoted Thomas Hope, a vaccine researcher at Northwestern University as saying:
There's nothing there that a magnet can interact with. It's protein and lipids, salts, water and chemicals that maintain the pH. That's basically it, so this is not possible.
So, who is this loon? McCarthy says she is an Ohio-based osteopathic physician who wrote a book called Saying No to Vaccines.

She has been identified by the news site rating service Newsguard as a 'super-spreader' of COVID-19 vaccine misinformation. A watchdog group at McGill University in Montreal found that she is one of 12 influencers responsible for 65% of anti-vaccine misinformation spread on Facebook, Instagram and Twitter.

Tenpenny has previously pushed false claims that the COVID-19 vaccines can cause death and autoimmune disease, disrupt pregnancies and "shed" to affect unvaccinated people.
Her latest comments came as she testified at the invitation of Ohio's Republican lawmakers in favour of a bill that would prevent businesses or the government from requiring proof of COVID-19 vaccination.
Florian Krammer, a professor of vaccinology at New York's Icahn School of Medicine at Mount Sinai, previously told PolitiFact the claims about vaccine magnetism were "utter nonsense."
Other experts told AFP Fact Check that the metal objects featured in various online videos and images are likely sticking for other reasons. They could have tape or another adhesive on them, for example. Or they could appear to stick because of the oil on a person's skin.
FactCheck.Org adds:
In one video posted across social media platforms, a woman claims to show a magnet sticking to her arm — a result, she alleges, of a recent vaccination.
"Here's the magnet. This is the arm I got the Pfizer shot in," she says, placing what appears to be a small silver, circular magnet on her left arm. "And there it is."
After it appears to stay in place, she then quickly hits the magnet against her other arm — "the arm that I didn't get the shot" — and it falls to the ground. "You go figure it out. We're chipped. We're all f—ed."
One Instagram post including that video was viewed more than 110,000 times. On TikTok, a similar video involving a Yoda magnet was liked more than 702,000 times before it was deleted.
And Wikipedia says of Tenpenny:
A Facebook page managed by Tenpenny was deactivated in December 2020 as part of the social network's efforts to reduce the amount of misinformation.
Nevertheless, a March 2021 analysis of Twitter and Facebook anti-vaccine content found Tenpenny to be one of 12 individual and organization accounts producing up to 65% of all anti-vaccine content on the platforms.
Some of her interviews with anti-vaccination activists and conspiracy theorists have attracted a large audience on Rumble, a video-sharing platform that doesn't have policies against disinformation.
Tenpenny promotes anti-vaccination videos sold by Ty and Charlene Bollinger and receives a commission whenever her referrals result in a sale, a practice known as affiliate marketing.
Despite her prolific promotion of disinformation, her Tenpenny Integrative Medical Center received a federal loan of $72,000 as part of the Paycheck Protection Program during the pandemic.
Unsurprisingly, Tenpenny has a great many fools who support her cock-eyed notions. One is someone called Alice Russell, "a Christian of 47 years" who, in a letter to the Gazette-Virginian in April, implored people to heed the conspiracy theorist because:
She is board certified in three medical specialities and widely regarded as the most knowledgeable and outspoken physician on the adverse impact that vaccines can have on health.
• Please report any typos/errors to barry@freethinker.co.uk
If you'd like to buy me a cup of coffee – and boy, do I get through a LOT of coffee keeping this site active – please click the link below.
I'd love a cup of coffee