A WASHINGTON youth pastor who demanded that only one-piece bathing suits must be worn at his Christian camps has set off a firestorm on his Facebook page about 'immodestly' dressed females.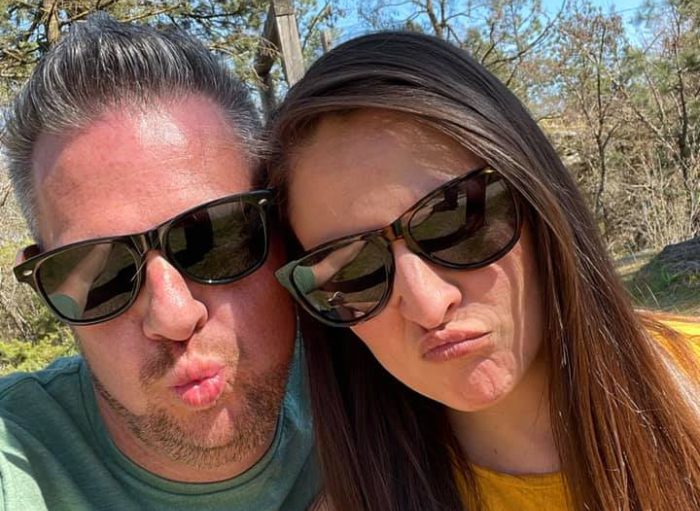 After issuing a 'ONE PIECE SWIMSUITS ONLY' ultimatum Bryce Brewer – pictured above with his fiancé Katie Hochhalter Brown – realised he made a dreadful mistake for thinking that the girls' bodies "need to be covered" but it was "ok" for boys to show theirs.
So he posted a lengthy apology, saying he was sorry on four counts:
• First, for not teaching men to control themselves.
• Second, for placing the weight of purity on girls over their swimsuit rather than on boys "to not be gross."
• Third, for subjecting women to the difficulty of searching for the one-piece attire so they could be deemed "appropriate."
• Fourth, for thinking that the girls' bodies "need to be covered" but "ok" for boys to show theirs.
His apology attracted 30,000 comments, both for and against Brewer, but the first one that leapt out at me was:
Only religion can ruin swimming.
According to Christianity Daily, Brewer explained that what sparked his "ridiculous ultimatum" was frustration at not being able to find one-piece swimming suits when out shopping with his fiancé Katie Hochhalter Brown and her daughter.
He went on to apologise for men's actions of making women feel "sexualized" by telling them to cover their bodies. He also felt sorry for not teaching boys "to be men" and placing the "responsibility" on women instead.
The pastor said that male youth pastors should "stop being chauvinists" and that women come in different shapes and sizes and that allowing men to dictate what women should wear is "ridiculous."
He was also hoping that other church leaders would learn from his mistake.
I truly am sorry, and my intention was to say that and to say that while my heart may have been in the right place, I missed the boat in this area.
Unfortunately for Brewer, he opened up a whole new can of worms by saying that boys should "stop being gross."
One commenter wrote:
I think telling boys to stop 'being gross and disgusting' is an oversimplified and insensitive address of the physiological impulses and natural sexual desires young men are adjusting to for the first time in their lives (I would take less issue with saying this to a man in his twenties and beyond) – however, I have long been very much against putting the responsibility of what boys may or may not look at, on the shoulders of the girls …

All in all, too much damage is being done because of oversimplified 'solutions' that place an unfair burden on young ladies – and that's wrong.
Please report any typos/errors to barry@freethinker.co.uk
If you'd like to buy me a cup of coffee – and boy, do I get through a LOT of coffee keeping this site active – please click the link below.