JEWISH and anti-fascist groups have expressed anger over the inclusion at a Polish exhibition of works by Swedish artist and provocateur Dan Park, who was jailed in Sweden for six months in 2014 for portraying Roma and black people in a racist manner.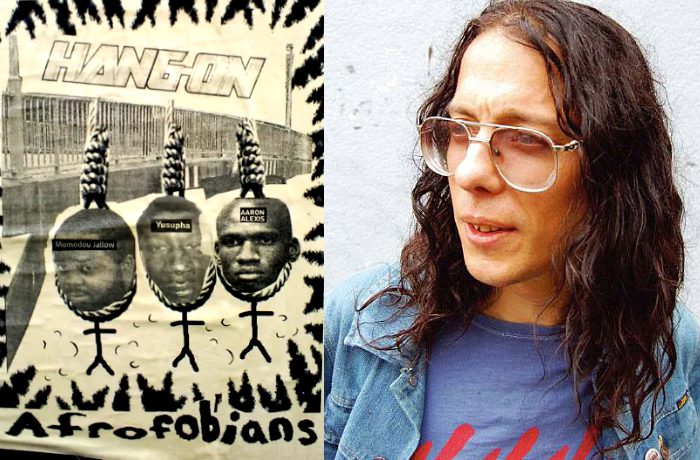 The case focused on nine framed posters by Park that were seized from an art gallery in the city of Malmo. One depicted three black men with nooses around their necks. The man on the left of Park's image is Jallow Momodou, a Swedish activist and National Co-ordinator of the European Network Against Racism.
Another of Park' images showed Roma community leaders with text suggesting they condoned crime.
Earlier, in 2009, Park was convicted for placing swastikas and boxes labeled "Zyklon B" – the gas used in the mass murder of Jews during the Holocaust – in front of a Jewish community center in Malmo.
He works also include a Catholic bishop receiving fellatio from a young boy and Jesus having sex with Mohammed.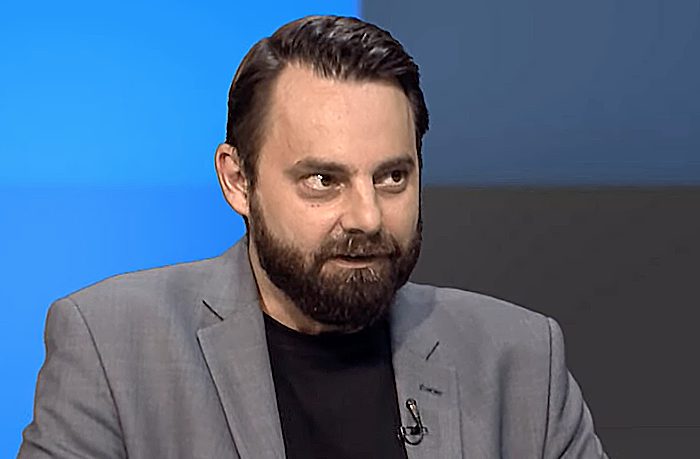 According to this report, Park's works are part of an exhibition called "Political Art," which features almost 30 artists. It is the second exhibition at the Ujazdowski Castle Centre for Contemporary Art under director Piotr Bernatowicz, above, who was appointed by Poland's populist conservative ruling party in 2019.
Critics are accusing organisers of giving a platform to anti-Semitic and racist messages under the pretense of defending freedom of expression.
Since it came to power in 2015, the Law and Justice party has harnessed the country's cultural institutions in a mission to promote conservative and patriotic values – including the art cenre housed in a reconstructed castle that has showcased experimental and avant-garde art in Warsaw for 30 years.
The museum says the "Political Art" show provides a space for rebellious artists sometimes shunned elsewhere. The exhibition includes works critical of the authoritarian regimes in Russia and Belarus, works by women from Iran and Yemen critical of oppression in the Muslim world, and others that use swastikas or symbols rooted in the Holocaust "in an apparently ironic way."
The Jewish community in Poland strongly protested the inclusion of Park. In an open letter to the museum director, rabbis and other Jewish representatives argued that promoting such artists offends all people in a country where six million Polish citizens – half of whom were Jews – were murdered during World War II.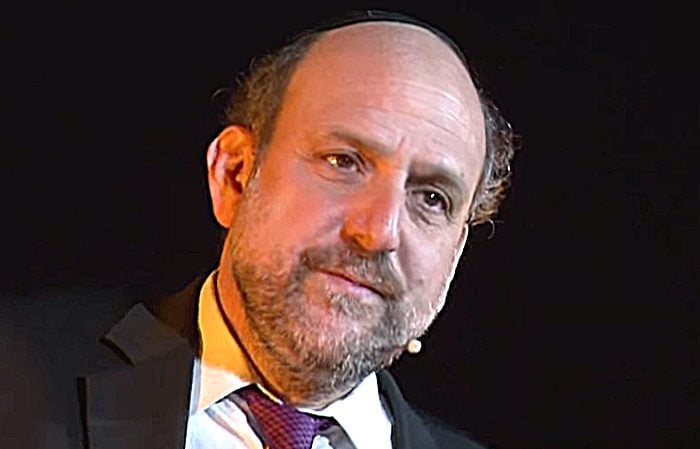 Poland's Chief Rabbi, Michael Schudrich, above, said:
Free expression is essential to a democratic society, but free expression still has limits.
At a news conference on Friday, Bernatowicz, said he could understand the position of the Jewish organisations, acknowledging that some of the work is provocative and controversial. But he said the Jewish representatives should see the exhibition before criticising it.
I am not creating a platform propagating any types of Nazi or neo-Nazi views. I am creating a platform for art to be expressed.
Several artists at the news conference said they received emails from anti-fascists the day before, warning them that works were being shown by far-right artists.
Some said they were unsettled by that message, including Emma Elliott, an anti-fascist artist whose works explore how women are usually the first targets of fascist regimes. But she and the others present – including two Jewish artists – defended the exhibit as an important platform "for different voices."
Said Israeli artist Marc Provisor:
Yes, I find some of the images here not only disturbing but offensive. But I think it's important for the writers of those letters to come (and) face what disturbs you.
Separately, an anti-fascist network in Poland also condemned:
The attempts to use Polish art institutions to platform artists infamous for their neo-Nazi sympathies.
Among the works by Park being shown in Warsaw is a poster that presents Anders Behring Breivik, the right-wing extremist who killed 77 people in twin attacks in Norway, as a supposed model for the clothing brand Lacoste.
Another provocateur is Uwe Max Jensen, a Danish artist who did a performance at Friday's opening in which he waved a Confederate flag, stripped naked, painted his body black with the help of another artist, and dragged himself on the floor as he repeated the words "I can't breathe!" Those were the last words spoken by George Floyd, the Black man whose murder by a police officer triggered a racial reckoning in the United States.
Protesters surrounding him shouting "fascist!"
The exhibit also features works by Lars Vilks, a Swedish artist who lives under police protection for his drawing of a dog with the head of the Prophet Mohammed. The drawing upset many Muslims in 2007 and brought Vilks death threats from extremists.
Co-curator Jon Eirik Lundberg, a Norwegian who runs the Laesoe Kunsthal gallery in Denmark, denied that the show promotes racism, and said its aim is to fight for freedom of speech in defence of democracy.
"Political Art" runs until January 16.
Hat tip: Antony Niall
Please report any typos/errors to barry@freethinker.co.uk
If you'd like to buy me a cup of coffee – and boy, do I get through a LOT of coffee keeping this site active – please click the link below.