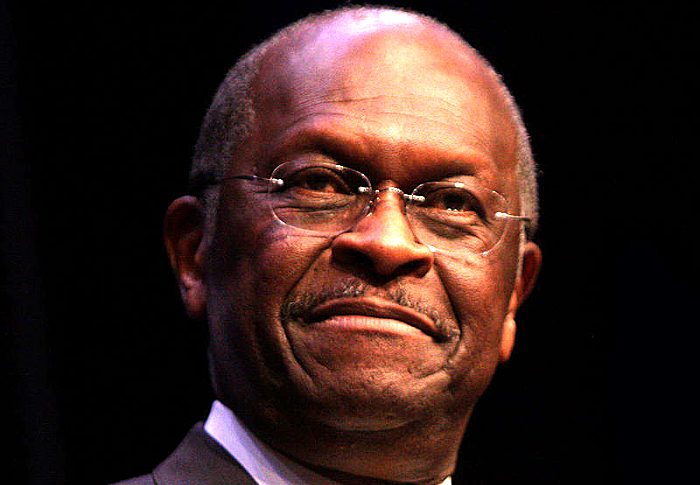 AFTER "devout Christian" and less-than-faithful husband Herman Cain, above, succumbed to Covid last year, Reddit – a huge site where people share news or comment on other people's posts – launched a forum featuring items about mainly religious anti-vaxxers who died of the virus.
The Herman Cain Award section, launched last September, quickly grew into one of the biggest forums on Reddit. Today it has 315,000 members – something that has deeply unsettled journalist Lili Loofbourow.
Writing for Slate, she pointed out the forum was launched after Cain – "the onetime candidate for president who succumbed to COVID some weeks after attending a Trump rally in Tulsa, Oklahoma, at which he was photographed maskless in the summer of 2020" – died on July 30.
She then wrote:
The Herman Cain Award concept is simple and ugly. A single entry to the subreddit consists of anywhere between two and 16 screenshots of a social media profile (usually Facebook, with last names scrubbed out) belonging to someone who died after aggressively rejecting precautions that could have protected them and others.

The idea is to track the individual's journey from COVID theory, so to speak, to COVID practice: what a person posted or commented about masks or shots, or those who advocated for either before getting sick, and how they and their community narrated their disease once they were ill.

It is cruel, a site for heartless and unrepentant schadenfreude. This is a place where deaths are celebrated, and it is not the only one …


Nothing about the r/HermanCainAward, a dark record of a dark, dark time, is decent or kind or particularly fair. Even using Cain as the model is uncharitable; he was actually among the conservatives who didn't deny that COVID was real.


He advocated following CDC guidelines including social distancing and even masks on his radio show, despite not always adhering to those recommendations himself.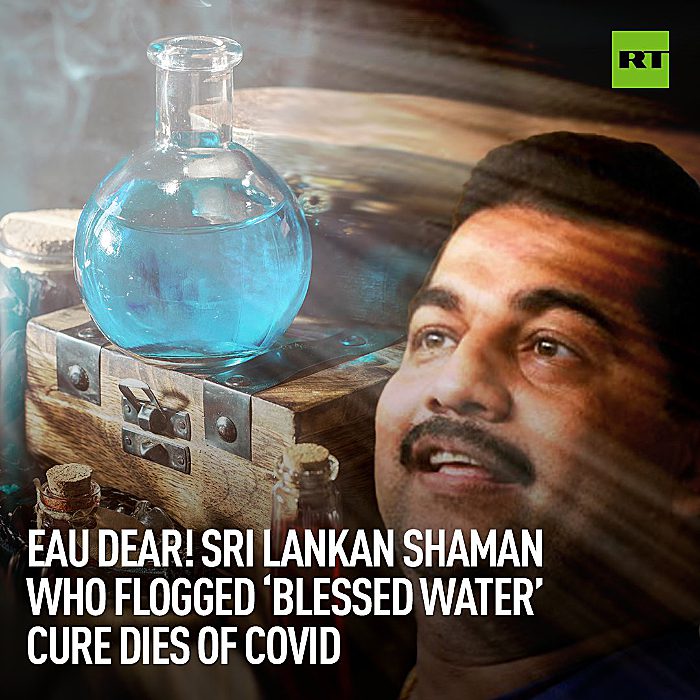 One death not yet featured in the Herman Cain Award section is that of Sri Lankan shaman Eliyantha White, above.
RT tweeted:
A high-profile Sri Lankan shaman who claimed he could end Sri Lanka's Covid-19 outbreak with 'blessed water' has died… of Covid-19.

Eliyantha White, 48, claimed last November that he could rid Sri Lanka and India of the pandemic by pouring his 'blessed water' into rivers.
The 48-year-old fell ill with the virus earlier this month and was taken to hospital where his condition worsened.
His "blessed water" was publicly endorsed by Sri Lanka's former Health Minister, Pavithra Wanniarachchi, who subsequently spent two weeks in intensive care with Covid.
White rose to prominence in recent years after treating several Indian cricket stars, but his treatments have been rejected by mainstream doctors.
Hat tip: BarrieJohn (White death)
Please report any typos/errors to barry@freethinker.co.uk
If you'd like to buy me a cup of coffee – and boy, do I get through a LOT of coffee keeping this site active – please click the link below.