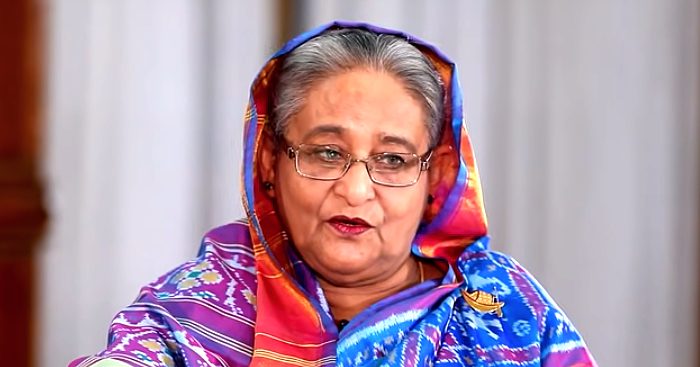 THE government of Bangladesh, headed by Prime Minister Sheikh Hasina, above, has reacted to anti-Hindu violence last week by vowing to drop Islam as the state religion.
The Guardian reports that rioting, that led to the death of a number of Hindus and Muslims, began after a Koran was "desecrated" in a Hindu temple. Claims on social media allege the Muslim "holy book" had been placed that on the knee of a statue of the Hindu god Hanuman, in a shrine set up for the Hindu holy festival of Durga Puja.
News Nine reports that Sheikh Hasina's administration decided at last Friday to tackle radical Islamism "head on" by reverting to the country's 1972 secular Constitution.
At a media briefing junior Information Minister Murad Hassan said an amendment will soon be tabled in Parliament and is likely to be passed without any opposition. If the move comes into effect, Islam will no longer be the state religion of the Muslim majority country.
Two amendments during successive military regimes between 1978 and 1990 had undermined the 1972 secular Constitution and instituted Islam as the state religion. Islam was made the state religion by a Constitutional amendment during the reign of General H M Ershad in the late 1980s.
News Nine points out that the ruling Bangladesh Awami League enjoys an absolute majority in Parliament with its coalition, accounting for 280 seats in the 300-member House.
Therefore, the passage of a fresh amendment may not be difficult. But it is likely to provoke more Islamist radical violence similar to recent attacks that have left five Hindus and four Muslims dead.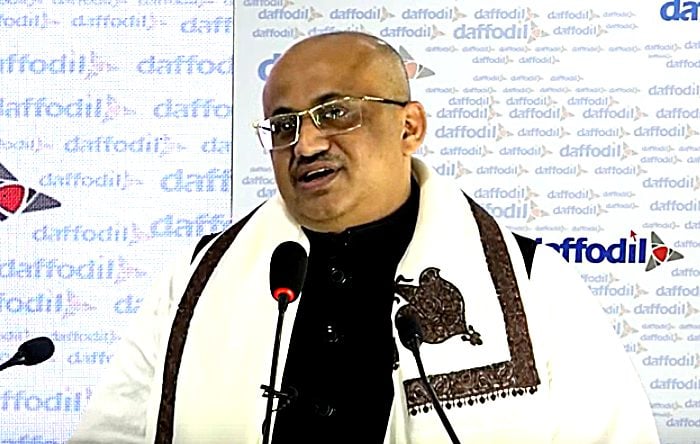 Murad Hassan, above, is quoted as saying:
We will soon return to the 1972 secular Constitution that founding father Bangabandhu Sheikh Mujibur Rahman gave to Bangladesh after Independence. We don't accept Islam as the national religion.
He also "lashed out" at military dictators Zia and Ershad for instituting Islam as the state religion and "unleashing the politics of religion."
Murad spoke out on a day when Bangladesh was battling Islamist violence against Hindu temples and Durga Puja pandals. The violence began last Wednesday morning after pictures showing the "desecration" of the Koran at a Durga Puja pandal in Comilla town, went viral on social media.
New Nine also pointed out that Bengali Hindus don't worship Hanuman in Durga Puja.
Said Rana Dasgupta, of the Hindu Buddhist Christian Unity Council:
The pictures were fake and were meant to incite violence against Hindus.
Five Hindus died and scores of temples and pandals were been vandalised during the rioting. Four Muslim rioters were also killed in police firing at Chandpur when they tried to attack temples.
The Hasina government deployed border guards and Rapid Action Battalion (RAB) personnel in 22 districts to restore peace. As many as 140 rioters and troublemakers have been arrested, so far – more than 40 in Comilla where the trouble began.
Said Sukhoranjan Dasgupta, author of Midnight Massacre, an account of the 1975 coup that led to the assassination of Mujibur Rahman along with almost his entire family said:
One has to grant it to Hasina. What courage. Who would dare to revert to a secular Constitution at a time when the Islamist radicals are on the offensive in an orchestrated campaign.
Only Rahman's daughters Hasina and Rehana had survived the assassination. Hasina has brought down military regimes by street agitations and has survived 19 assassination attempts, including the 2004 grenade attack on her rally which killed more than 20 party leaders and activists.
Assuring action against the rioters, Hasina said:
We follow the ideals of Sheikh Mujibur Rahaman. Bangladesh is a secular country. People of all religions shall live together in Bangladesh. Religion may be personal, but festival is universal. And people in Bangladesh have always celebrated such festivals together.
Awami League leader Aysha Zaman Shimu said the violence during Durga Puja was a well-orchestrated campaign to discredit the government, complicate relations with India and create panic amongst Hindus.
The Hindus are a soft target, but the real target is the Awami League.
In a 2019 interview with, PM Hasina insisted that Islam was "a religion of peace" but some people use it "in the wrong way." (Starts at 12:17.)

According to Wiki, between 2013 and 2016 Bangladesh saw a numberof attacks on secularist and atheist writers, bloggers, and publishers. Foreigners, homosexuals; and religious minorities such as Hindus, Buddhists, Christians and Shias were seen. By July 2, 2016 a total of 48 people, including 20 foreign nationals, were killed in such attacks.
Hat tip: Robert Stovold
• Please report any typos/errors to barry@freethinker.co.uk
If you'd like to buy me a cup of coffee – and boy, do I get through a LOT of coffee keeping this site active – please click the link below.
I'd love a cup of coffee