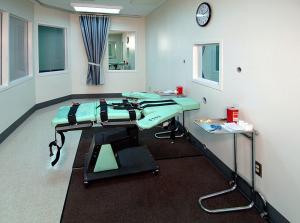 In a major shift on Church teaching, Pope Francis has declared capital punishment unacceptable in all cases. Prior to the pontiff's recent pronouncement, Church doctrine allowed for the death penalty if it were deemed the only practical way of defending lives. Practically speaking, the Church's new policy of total opposition to capital punishment is aimed at the United States. Of the 52 nations that still execute convicted criminals the U.S. stands alone as both the only major Western country and the only one with a significant Catholic population, the 4th largest in the world.
As the first Latin American pope, Francis has put mercy and social justice at the top of his pastoral agenda, so the new ecclesial position on capital punishment comes as no surprise. One of the fixtures of his foreign tours, including the one to the US, are visits to prisons, which in his native Latin America are hellholes often controlled by criminal elements.
While American prisons are not as hellish as those in the pope's native region, serious flaws in the criminal justice system in many of the states that still carry out executions, including Virginia where I live, result in lethal injections of men, the great majority are male, who are disproportionately African-American, Latinx, high-school drop-outs, many of whom received subpar legal representation in a system in which access to high-priced attorneys often makes the difference between ending up on death row and serving an abbreviated sentence.
A new Pew poll shows a significant majority (57%) of White American Catholics are in favor of the death penalty despite the Church being one of the major opponents to it for some time now. Overall, American Catholics of all ethnicities are a bit less in favor of executing convicted murderers because Latinx and African-Americans oppose the death penalty at much higher rates than Euro-Americans. 49% of Latinx oppose it, while 52% of African Americans do. In contrast, only 34% of White Americans oppose executions of convicted murderers.
In short, the new Church doctrine will give greater ammunition to Catholics fighting to abolish it in the U.S., but will probably not sway those parishioners who support it, many of whom view the Argentine pontiff as too liberal on issues of social policy.