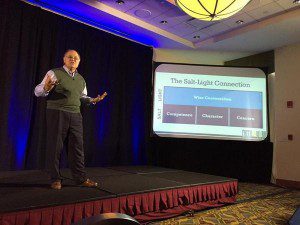 Bill Peel moved us from the ethics of evangelism through practical relationship tips for being honest with others about our Christian world view.
Just as David Gill is an expert in ethics, Peel is a career expert on workplace evangelism, leading him to his current role as Director of the Center for Faith at Work at LeTourneau University (and a good friend of The High Calling).
He has published numerous works, including the recently updated Workplace Grace: Becoming a Spiritual Influence at Work in which he advises, "Some of the old gospel-sharing methods are unwise, if not flat-out unethical. A workable model for evangelism must respect the nonbeliever's integrity and vulnerability while also considering the professional's fiduciary responsibility."
In other words, we are rarely employed to evangelize others while we are "on the clock." Even if faith-based discussions are allowed, Christians must be especially careful about the tone they set. Peel warns, "Whatever your arena and however aggressive your workplace may allow you to be, being a 'religious jerk' is never appropriate!"
While other countries are seeing tremendous growth in Christianity, Peel explained, western countries are experiencing exactly the opposite. We have thousands of churches, whole industries of faith, and yet 43% of Americans are considered to be unchurched. Too many of us are not sharing the gospel with the people in our daily lives. The apostle Paul tells us "we are Christ's ambassadors." And we need to step it up.
God cares about our work, but he also calls us to tell others about him. Too few Christians see evangelism as their assignment where they work. Similarly, too few Christians seem to understand what evangelism really is. People end up being incredibly aggressive with their faith, or they go to the other extreme, hesitating to say anything at all that explicitly expresses the connection between their faith and their work.
Evangelism is not a confrontation. A doctor shouldn't ask every surgery candidate, "Are you confident about where you are going to spend eternity?" Hard sell evangelism creates more fear than faith. It simply doesn't work.
Instead, evangelism is a process. Salt always comes before light. If we want to be taken seriously, we must have competence, character, and concern. We must first do our jobs well. We must do our work with integrity. And we must show people that we care.
In the followup Q&A, Katherine Leary Alsdorf told Peel, "I don't feel like I can ever be good enough or competent enough to earn the kind of credibility you are talking about."
Don't worry. Nobody is looking for perfect people, said Peel. They are looking for honest people who are willing to admit their mistakes.
Randy Kilgore on Workplace Discipleship
In a subsequent session on workplace discipleship, Randy Kilgore reminded us, "Language is everything." Our challenge today is to translate the language of faith into the language of the workplace. But as people have started to doubt scripture they have stopped reading scripture. Now we have a culture that doesn't understand the language of faith at all.
When it comes to practical discipleship, Randy Kilgore has ample experience—from his full career in human resources to his recent service on the Theology of Work Project. He is also dedicated to producing discipleship materials.
His devotional book, Made to Matter, has many inspirational passages that remind me of our own work at The High Calling. For example, Kilgore writes,
"Honoring God is about doing our best in today's work, not waiting for tomorrow's promise. Being competent in the place God has us right now is how we honor Him. Whatever we're doing this day—driving a truck, managing a company, plowing a field, punching a keyboard, tending children—now is the moment God calls us to honor Him."
This post is part of a series on Applications of Faith at Work, covering session 3 at the Faith@Work Summit in Boston:
Part 1: Mockingjay Promo Satirizes Faith and Work Movement in CapitalTV's District Voices
Part 2: John Dyer on Technology, Faith, and Work
Part 3: David Gill on Workplace Ethics
Part 4: Bill Peel, Randy Kilgore on Evangelism and Discipleship in the Workplace