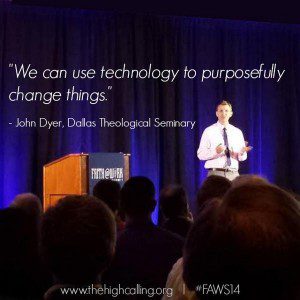 That's the question asked earlier today by John Dyer, the director of web development for Dallas Theological Society. He began the summit's application discussion by inviting us to think about technology. (If you've not yet read John's book From the Garden to the City, I highly recommend it.)
In that book, Dyer explains the double-edged sword of technology in our lives and our culture. He writes, "Technology can at the same time be both a reflection of the image of God and a subtle rebellion against him and his authority. Today nearly every tool available to us enables us to perpetuate the myth that we can live apart from dependence upon God."
In addressing the Faith@Work Summit, Dyer explained the challenges and opportunities that technology creates for us in the workplace. Technology actually helps us overcome some of the effects of the Fall. It won't make everything better, but it can help make the world better for some people.
In fact, God even uses technology to help redeem the world. He did this with Noah, asking Noah to build something and participate in redeeming his family during the flood. Today, we can still use technology to deliberately transform the world, as cocreators alongside the original tekton, Jesus.
In response, Katherine Leary Alsodorf asked Dyer, "Is there a particular technology that you are being contemplative about in your personal life to use in a different, more redemptive way?"
Although he works on Bible software, Dyer says he worries that his kids don't see him reading the Bible. Instead, they see him working on a laptop. The problem with multi use devices is that they don't communicate our focus to the others around us. We could be doing anything from reading the Bible to checking Facebook to watching the latest promotional video for the new Mockingjay movie. Dyer wanted his kids to see him studying the Bible. Since realizing this, he has made an attempt to use older technologies sometimes, reading from an actual print version of the Bible so his kids will know where he is placing his focus and so they will know that the Bible is something worth direct and intentional focus.
Dyer invites all of us to reflect on how we use technology to honor God. In fact, if that question inspires you, please, let us know in the comments what you are doing or what you have seen others do that brought honor to God.
This post is part of a series on Applications of Faith at Work, covering session 3 at the Faith@Work Summit in Boston:
Part 1: Mockingjay Promo Satirizes Faith and Work Movement in CapitalTV's District Voices
Part 2: John Dyer on Technology, Faith, and Work
Part 3: David Gill on Workplace Ethics
Part 4: Bill Peel, Randy Kilgore on Evangelism and Discipleship in the Workplace