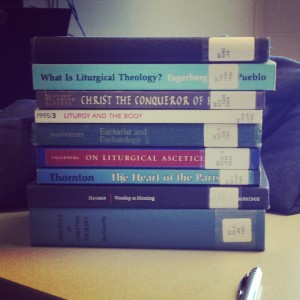 Every week I will share links and resources as a round-up for your weekend reading. The inclusion of a link or article in my posts does not indicate that I am endorsing the material or opinions of the author. This is designed to help keep things on your radar and to start meaningful conversations.
In Case You Missed It…Recent Pieces on "The Liturgical Theologian"
"They Were All In One Place" – Sermon Notes for Pentecost Sunday
"Liturgical Sense: A Series" – A new series dissecting, studying and examining the individual and corporate elements of the liturgy.
"Proper Preface/Collect for Pentecost"
More on the Pew Report
"6 Ways Mainline Denominations Should Respond to Decline"
"5 Ways Churches Inflicted Pain on Themselves"
"How Seriously Should We Take the Phenomenon of the 'Nones?'"
Miscellaneous
"An Open Letter From One of those Millennials You Can't Figure Out"
Dr. Wesley Hill of Trinity School for Ministry asks the question, "Is There An 'Anglican Understanding' of the New Testament?"
A newly ordained priest offers his reflections.
Sandra McCracken and longing in the Psalms.
Tish Warren prepares for Pentecost with, "The Church is Your Mom."
"Brothers, We Are Not All Brothers."
"4 Ways Paul Understood His Authority"
Blogs/Resources
Anglican Pastor – "The primary writers are active Anglican priests, and the focus and scope of the material is based on experience in the parish. Other guests writers join us from time to time to provide insight, inspiration and expertise. Whether our contributors are clergy or laity, we always write from a pastoral perspective."
Fuller Magazine – My alma mater produces a top notch theological magazine. Check it out!
"Liturgy" – Worship that works, spirituality that connects. (From New Zealand)