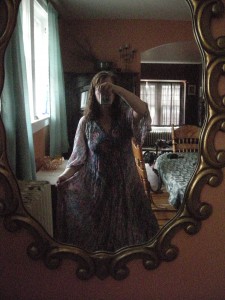 Have you seen it yet? I want to see it again before I write a review, but my first response was that I loved the visuals and the vibe of the film very much. But I did think there were some weird holes in the plot and some poorly written dialogue. Still, it's worth a look. I do wonder if Mr. Zombie might consider working with a screenwriter to address these problems; I think he is a world class visual auteur but the films just don't hold together very well, which is a shame.
Oh, and I loved the funky vintage costumes worn by the main character (played by Zombie's wife Sheri Moon Zombie) and the three witchy sisters. One of the sisters wore this cool Indian vintage dress, a cotton lawn with wingy sleeves and flowered pattern with shades of blue, green and pink, and I have one JUST LIKE IT that I got from a vintage seller at Starwood years ago. Here is a pic of me wearing it, see if you recognize it when you see the film. I got such a kick out of seeing it on the big screen!
Oh and this mirror? I got it at a yard sale three years ago. If you watch MAD MEN you will see one JUST LIKE IT on the walls of Joan Holloway-Harris' apartment; though she has it hung horizontally, not vertically.