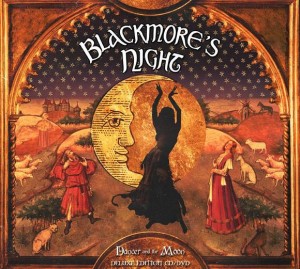 This new album from legendary rock guitarist Ritchie Blackmore and singer-instrumentalist Candice Night is the pair's 13th studio album. Like their previous work, the album's songs represent an array of styles and genres, while maintaining a unique signature sound that no other rock duo has achieved: a mix of hard rock, medieval and classical -infused art rock, grad-folk, and gypsy stylings. It's safe to say Blackmore's Night shows no sign of slowing down or losing their edge, although I did note that, this time around, some songs are infused with a bit of country-pop crossover styling. Not a bad thing,but an interesting new layer.
Maybe you're like me: you came of age between the late 1970s and early 1980s and you enjoyed the interesting transitions happening in rock and roll and pop music at the time. Some of the progressive and art rock of the 1970s seemed to dovetail nicely with the new emphasis on electronic instrumentation. 1970s hard rock and heavy metal gave way to endless permutations of lighter fare, like the "hair metal" bands: so named when bands like Def Leppard, once a very respectable heavy metal band, gave in the pressure of popularity found via MTV's ubiquitous music videos (remember those?) took to frosting their hair and posing in skin-tight nylon. No, they weren't the only ones who did it, so let's not pick on them.
Maybe you witnessed Ozzy Osbourne's break-off from Black Sabbath to do solo albums (heck, the "Blizzard of Oz" tour was my first concert ever. I used to be kinda embarrassed by that but now I think it's kinda cool). Maybe you also recall a somewhat obscure project involving guitarist Ritchie Blackmore of Deep Purple and a diminutive but superb vocalist  named Ronnie James Dio called Rainbow (though that group's most remembered hit, a top ten single in the UK, "Since You Been Gone," was with short-term vocalist Graham Bonnet). Rainbow was also known as Blackmore's Rainbow, and saw changing personnel over the years (Dio, who also sang with Black Sabbath and was collaborating with its former members when he died in 2010, was replaced by Joe Lynn Turner,and the band evolved into a more mainstream sound).
Blackmore's Night, Ritchie's collaboration with singer Candice Night, formed in 1997 to enthusiastic reviews and they've been going strong ever since. Mr. Blackmore can these days be seen strolling with a lute at Renaissance faires,where the two often perform. Their earlier song "Renaissance Faire" (as shown in this bewitching live video) captures the spirit of these unusual and colorful events that are of course not unfamiliar to many pagans. This new album contains some Renaissance-flavored tunes (like "The Lost Leaf" and "Galliard") and some with a pagan-folk-gypsy sound (like "Troika"). There are echoes of mid-1970sJethro Tull in "Minstrels in the Hall" (gee, that title sounds familiar somehow). I thought their rendition of English traditional song "The Ash Grove" was a bit tepid, and the opening song "I Think It's Going to Rain Today" had that country-pop vocal styling that just didn't, in my opinion, do justice to Ms. Night's silvery voice, which sounds mystical and haunting on songs like "Somewhere Over the Sea" (a melodic love song that morphs into a hard rocking anthem with a whole new time signature). One fun surprise was their cover of "Temple of the King," a song recorded by Rainbow with Dio back in the day. Night doesn't have Dio's raw power but the song nevertheless holds up well. Overall this is a well-produced, engaging and often evocative album. I think the arrangements are terrific (love those tambourines!) and the vocals very fine. Blackmore's Night continues to be one of the most versatile rock duos out there, and they're staying true to their roots with their incomparable musicality and command of multiple genres and styles.
By the way: Blackmore's Night is currently touring in England, and about to start a tour of Germany, so if you're lucky enough to live in either of those places, check them out!