Just saw this on Facebook, via Margot Adler's page. One of Margot's friends from NPR is spearheading an idea to get a bench installed in her name in Central Park, near where she lived. For those who don't know, Margot walked in Central Park as often as she could and was an avid birder (she even reported on birding for National Public Radio).
The message was as follows:
"From: Ken Barcus, NPR. Many of you have asked about ways to honor Margot's memory. After discussions with a few of her closest friends, it's been decided that collecting donations toward buying a memorial bench in her name in Central Park is the best plan. It's something she spoke of in her final days. As you know, she lived on the edge of the park nearly her entire life and walked through it daily. She bought a bench for her husband John, when he passed away, and one for her mother years earlier. Both are situated in the park, close to her condo. The cost of doing this through the Central Park Conservancy is $7,000. If we raise more than that, the excess will be put toward planting a tree in Central Park in her name. If anyone wants to donate toward this, I'll be collecting the money and then forwarding it to the conservancy. Checks should be made out to: Margot Adler Memorial Fund and mailed to this address: Ken Barcus NPR 3109 Mayfield Rd. #207 Cleveland Heights, Ohio 44118 Margot traveled in so many different circles, that I'm sure I've left many people off this email who would like to know about this effort. Please feel free to forward along this note to them. Thanks – Ken 
 Online contributions for Margot's bench in Central Park can be made by going  to this link.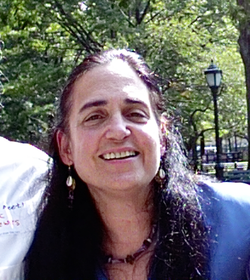 I can't think of a nicer way to honor Margot's memory than to have a bench in this urban oasis that she loved so much. This park is where she spent time almost every day. Her love of nature and her efforts to help raise awareness about the nature religion movement would be fittingly honored with this idea.
It's hard to know what to do in the wake of the loss of a loved one, or the passing of someone whose work we admired. So many of us in the pagan community feel a deep sense of loss with Margot's death, because her work had such an impact not only on many of us personally, but on the very existence of our communities and the spiritual movement we're part of. Margot was an accomplished public figure of course, but also a lovely person. She walked her talk. I like to think that, years from now, someone visiting this bench who didn't know who she was would be moved to find out.