Well, folks, it's that time of year again. Pumpkin spice lattes, apple picking, wool sweaters, suede boots, black cats, broomsticks, and witches! Every year there seems to be an explosion of articles on the web about witches just in time for Hallowe'en. While some of them profile actual witches, or take a look at folklore, a great many of them seem to be inspired by portrayals of witches in media. And that means telling you how to Dress Like an Actual Witch!
Like we have a dress code or something. Like there is some kind of standardized uniform we all wear. Like we all shop at the same witchy boutique at the mall (Hot Topic anyone?). Like we all have some kind of look we're going for. Well, okay, sometimes we do. But srsly? Do we need an article to tell us how to do it?
Apparently so.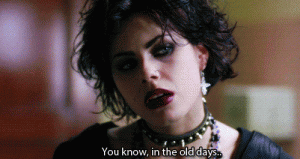 Like this one, "How to Dress Like a Witch from your Favorite Teen Stories This Halloween," which offers some really lame suggestions for how to dress like your favorite teen witches. The clothing pieces chose are kind of sad, even interspersed as they are with pentacle chokers and bras (yes there is a pentacle bra harness thingie, and it's kinda cool). And the descriptions of the "teen witches" are just annoying. Like this description of Hermione Granger: "Once a know-it-all teacher's pet with no friends, she blossomed into an intelligent, powerful ally and all-around best bud to Harry and Ron." Then there're some Hogwarts leggings and a baggy cardigan I am pretty sure Hermione would never wear (I might wear those leggings, though).
Nancy Downs of THE CRAFT is described thus by the author: "I've never seen anyone pull off '90s grunge so perfectly." Um, grunge? Don't you mean GOTH? Grunge was about flannel and workbooks and yes, as it became a fashion statement rather than the unstudied mode of dress of garage bands in Seattle (where it was cold and dreary, hence the flannel), there were some black boots and knit hats. But Nancy wore black lingerie and studded collars and silver chains dripping with rosaries (trying her best to sex up her Catholic school uniform). The article suggests a Schoolgirl uniform as a basis; then shows a red and black checked fleece skirt that looks like something cut up from a lumberjack's wool shirt.
And please, whatever you do: Don't forget the make-up tutorial!
Look, if you're going to invoke THE CRAFT's fashion magic, at least do it properly. This article appeared last fall: "How to Dress Up Like the 90s Teen Witches of The Craft for Halloween." I like this one: there are plenty of great photos from the film, and the suggestions of clothing and jewelry are actually rooted in careful observation of the characters. It even includes recent Tweets from Fairuza Balk!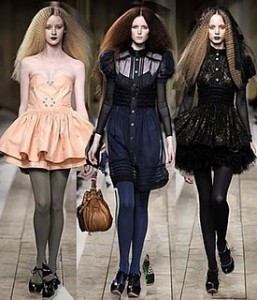 Then there are the "witches on the runway" articles. Yes, the world of haute couture has become enchanted by all the witchy shows and movies recently, and it seems like every season at least one major designer is influenced by witches.
This article from last fall
explains that "
Halloween is for amateurs. Every witch worth her salt knows that sorcery is a 365-day job. It's not about a pillowcase full of chocolate-covered fructose or grocery store pumpkins in the shape of who knows what. It's about the hocus pocus, the toil and boil. It's about magic. And with magic comes responsibility." It goes on to demonstrate 
how to "dress like a witch every day" by emulating the designers who created cloaks and diaphanous black gowns for Fashion Week: "
For runway-inspired ideas on building your own witchy wardrobe, click on the slideshow below and leave your cauldron at home. There's no incantations required." Okay, I'll be sure to leave my cauldron at home. Sheesh.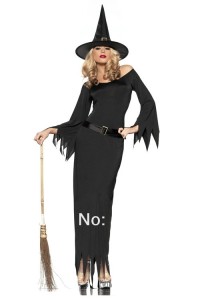 And here's an article to help you make your Hallowe'en unforgettable. Yes, "dressing up as a witch for Halloween can be anything but basic." Get creative! "There are so many ways to channel your inner sorceress that will surely turn heads." These costume ideas all have names, like the "Cute Witch" in a little black dress with plunging neckline, or the  "Retro Witch" which imagines a witch in 1950s style burlesque pin-up togs. That made me want to Google "Retro Witch Costume" and gosh, did I see a lot of lovely dresses. Some of them I'd even consider wearing.