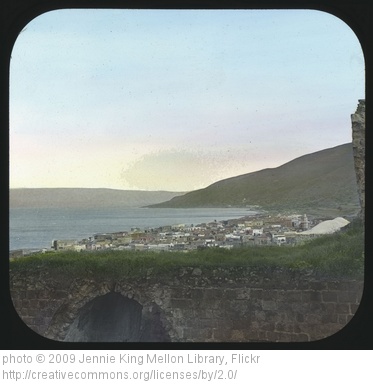 For the past couple of months I've been preparing for my first ever trip to Israel/Palestine. Visiting the Holy Land has long been a dream of mine (perhaps for most Christians), so when the opportunity came up, I'm glad I prepared with some great folks. With the guidance of my friends at The Global Immersion Project, I feel prepared for such a significant journey.
For Christians, several reasons exist for a trip to Israel, of which I will name two. First, the historical context of Jesus and the Apostles is something to be explored. The world of the New Testament can sometimes feel like an abstract story, so a visit (I assume) can help bridge the gap between the abstract and the concrete.
Second, the modern context of Israel/Palestine is a land with turmoil and at times – violence. Although one doesn't need to be afraid when visiting the Jerusalem and the surrounding areas, having a lens toward the struggle between the Israeli Government and the Palestinians helps us to understand that there are real-world issues to address. As Christians, turning a blind eye should not compute – especially if we know more than the media portrays about the struggle for peace in the region.
With The Global Immersion Project, I'm learning about both motivations for the trip mentioned above. Their motto is: "The Global Immersion Project cultivates everyday peacemakers through immersion in global conflict." In order to accomplish this aim, they teach about peacemaking from a biblical perspective, educate about the modern conflict in Israel/Palestine, and attempt to bridge the global-local gap by inviting participants to apply Jesus' call to peacemaking in their own city.
When this experience is over, I will have: 1) spent nearly two months in the Understanding Phase – essentially an online class with Skype-style instruction sessions with the whole group; 2) spent almost 2 weeks in the Exposure Phase – in Israel/Palestine discovering the historical context of the Bible and the modern-day context of global conflict; 3) spent a lifetime (I hope!) in the Integration Phase – taking what I learned in the first two phases and applying them to my local context (while also seeking to stay connected to the global issues of Israel/Palestine).
TGIP Learning Labs Phase 1 :: Understanding from The Global Immersion Project on Vimeo.
During the Understanding Phase, I've been exposed to many things. What I want to do for the rest of this post, is to distill some key things that helped me to prepare for my trip to Israel/Palestine. Most of what I share here was either specifically part of my time in the Understanding Phase or is complementary to it. Whether you eventually choose to partner with The Global Immersion Project or not, hopefully this list will get you fully prepared to get the most out of your experience in the Holy Land.
#1 Watch documentaries
Without actually "seeing" it will be difficult to imagine both the ancient and modern contexts of Israel/Palestine prior to a trip. The following films will educate you on the issues which have caused much of the violence in the region. But, the reality is that this isn't anything new. In Jesus' day, the situation was tense as well. Here's some helpful films to start with.
Little Town of Bethlehem – a film exploring the modern day struggle for peace through the lives of three men, who in many ways ought to be enemies.
With God on our Side – a film examining: the basic issues that led to the conflict, the current state of affairs for both Israelis and Palestinians, and the role of Christian Zionism.
Ray Vander Laan Faith Lessons DVD series – in this series of films, Christian teacher Ray Vander Laan explores the context of the Bible. This will give you a small taste of the real thing and help you to understand what you are experiencing when you are on the ground.
#2 Read 1 book on historical context and another on modern context.
The following two resources, in keeping with our ancient and modern theme, will give you amazing insights into Israel/Palestine. Honestly, I can't recommend these two books enough!!!!!!
#3 Go to the CDC Website to make sure that you are up to date on your shots.
Don't be like me… totally let the whole shot thing slip. When did I realize this? You know… the afternoon prior to my morning departure!!!!!! Luckily I had a local drugstore that was able to give me the Tetanus shot that I needed boosted. So, go here and check your shot records!
#4 Learn about conflict/resolution through a biblical lens.
God is in the business of Shalom (peace). From creation to new creation we see a God who invites humans to join in a mission to bring peace where relationships have been fractured. This is a foundational premise for The Global Immersion Project. In our Understanding Phase, they invited us into the story of Scripture and into a process for peacemaking. This conflict/resolution journey consists of 4 words:
See :: Pay attention to the humanity, dignity, & image of God in and the plight of others.
Immerse :: Humbly enter the radical center of conflict, seeking to understand rather than to be understood.
Contend :: Engage the person and the conflict through costly, creative initiatives.
Restore :: Reintegrate the person back into flourishing relationship.
A key word in peacemaking is "restoration" which The Global Immersion Project defines as: the holistic repair of severed relationships that results in harmony between us & God, us & ourselves, us & each other, and us & creation.
A couple of helpful and SHORT books on this issue:
#5 Go with a group committed to intentional conversation and mutual learning.
Look, all of this is great, but without conversation partners it won't actualize beyond your own internal monologue. And what good is that?????!
Again, this is why my time with The Global Immersion Project has already been life changing. Through our online forum and video chat dialogues, I have grown in many ways and feel ready to appreciate my time in the Holy Land more than I ever would have without preparing. Of course, as I've already made clear, I would invite you to consider joining a Learning Lab/Trip like I did. But, even if you choose a different path for your own pilgrimage, I hope you will be intentionally in conversation with others. As you learn, you will dream. As you dream, you will collaborate. And as you collaborate, your world will never be the same.
So, for those of you who have visited Israel/Palestine: What other tips would you add to this list?