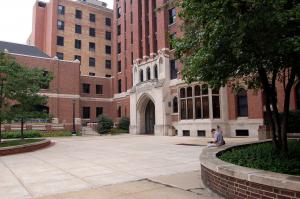 Julie Roys has dropped an absolute bombshell: Moody Bible Institute just announced that it now affirms the Chicago Statement on Biblical Inerrancy. Beginning in the 2018-19 academic year, Moody will require all faculty to embrace the Chicago Statement.
For those recently concerned by reports out of Moody, this is very big news indeed. It is also very good news indeed. The best way for a school to fend off Satan's attacks and fight for the advancement of Christ's kingdom through its academic mission is to lash itself to the mast of Scripture. Affirming inerrancy, the total truthfulness and concomitant truthfulness of Scripture, does not set an institution back. Affirming inerrancy as defined by the Chicago Statement does not hold a school or church back from reaching the lost. Affirming inerrancy via the Chicago Statement sets institutions and churches up to survive all assaults, to hold fast to the trustworthy Word, and from this position on solid doctrinal ground train up disciples of Christ (2 Tim. 3:16; see Matt. 28:16-20). Inerrancy is not a hindrance to mission; inerrancy is the launchpad of mission. (Here, by the way, is a great book on the doctrine of Scripture by Midwestern Seminary's own Matthew Barrett. Strongly recommended.)
I am thankful that friendly voices like Tim Challies and Trent Hunter engaged this matter. Hunter's piece, written from the standpoint of a grateful Moody alumnus (and student body president) and pastor, particularly crystallized the issues at hand. Should MBI go on to take further steps in coming days to shore up its doctrine and teaching, evangelicals will no doubt find their hope in Moody's future renewed on a continuing basis.
We give praise to God whenever a church or institution acts to honor God by affirming in full his inscripturated truth and personal truthfulness. The leaders at MBI have done well. May God continue his good work at this school in the season ahead.
*****************
(Image: Wikimedia Commons)