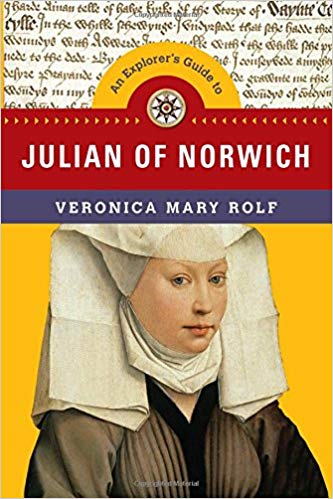 Recently, I've been reading An Explorer's Guide to Julian of Norwich by Veronica Mary Rolf. Julian was a spiritual author who'd I'd vague heard about before. This book convinced me to buy Julian's complete dialogues for further spiritual reading.
I think this book is excellent. I will offer a general overview of Julian, a general outline of the book, some great lines and conclude explaining my 5-star rating.
Rolf is in a unique position: she has money from her and her husband's time on Broadway and related endeavors so can do what she wishes. However, she dedicates herself as an independent scholar on a medieval mystic, about who she has written two books.
Overview of Julian of Norwich
Julian was a mystic in the late 1300s and early 1400s. Norwich, where she lived, was a relatively large city for the time in the tens of thousands. It was the time of the plague and the Western Schism where two, then three men claimed to be Pope. Julian first started having revelations after she was very sick at age 30. After a miraculous recovery, she became an anchorite.
As a Catholic from a Germanic, Anglo-Saxon background, I find that many Catholic spiritual books written in a romance language and with a Latin mindset – even in translation – don't fully speak to my ingrained psychology. (For the record, I'm at least a quarter each German, Scottish and Irish.) Julian seems a little different. God speaks to her in categories that fit our Germanic minds well.
Julian writes in late Middle English. It's a little further removed than Shakespeare. Rolf maintains this in her quotations so be prepared to read a little slow at times. (Interestingly, the Penguin Classics version I just got on Kindle to read the Revelations in full has a translator but still keeps some archaic usages like thou.)
Rolf's Guide to Julian of Norwich
This work is really broken into three parts. The first 65 pages give background. Then, follows a 100-page running commentary on the Revelations of Divine Love. The book concludes with 30 pages on thematic elements of Julian's writings.
The First part is very valuable for understanding the context of Medieval England, the Church at the time, and Julian's own life. We don't know much about her life, but Rolf and other scholars suspect she had a husband and child who perished in the plague of 1361. She lived much of her life as an anchorite, withdrawn from the world and dedicated to chastity.
Rolf seems to have read and re-read Julian many times, so her comments and summaries seem very well done in the second part.
The final section really brings together a few points scattered throughout the commentary that Rolf thinks work together. In this part I see Rolf coming out as an author more than just a historian of or commentator on Julian.
The only thing I might suggest for this outline would be that maybe a little longer of an introduction as I was not that familiar with Julian before and found myself a little head spinning when reading this.
Top Quotes
Here are some of the lines in this book that most touched me. Hopefully, they help you too. I leave them without commentary.
"For our soul so precisely loved by him that is highest, that it overpasses the knowing of all creatures: that is to say, there is no creature that is made that may know how much and how sweetly and how tenderly our maker loves us… And therefore we may ask our [divine] lover, with reverence, all that we will." –Julian of Norwich, 6:42-45, 48-49.145 (p. 76).
"Julian teaches us that God wants to be in every circumstance. The more difficult the circumstance, the more crucial it becomes that we seek his presence within it." –Veronica Mary Rolf (p. 81)
"What difference would it make in our lives if we really sought Jesus within all our experiences? Not just the joyous ones, but the suffering ones, too." –Veronica Mary Rolf (p. 83)
"Sinne is behovely, but alle shalle be wele, and alle shalle be wele, and alle manner of thing shalle be wele." –Jesus to Julian of Norwich, 27:8-11.209 (p. 89).
"We must dare to reconceive of ourselves as no longer slaves to sin but as God's beloved children. By the power of the Holy Spirit, we must learn to feel intimate and 'homely' enough to call God our 'Abba!' – just as Christ himself did." –Veronica Mary Rolf (p. 176)
Conclusion
As someone who had only vaguely heard of Julian before, I found this book a good introduction. I give it five out of five stars, despite a few small issues.
I think it was designed for someone with a little more background than I had as the beginning seemed to assume things I didn't know, but by the end I understood what Rolf was talking about at the beginning. This is by a general Christian publisher so I'm guessing I'll see more about specifically Catholic themes as I read the original or Rolf's other book by a Catholic publisher.
Nonetheless, this book is an excellent introduction and gives a great sense of who Julian is. We need to pray for more mystics and more people studying them.
Disclaimer: IVP sends me many free books including this one with no strings attached, hoping I review them.