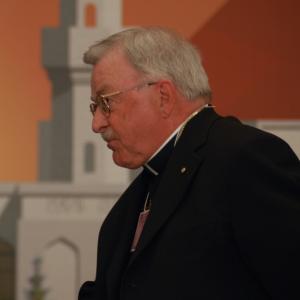 Bishop Fred Henry, a retired bishop, recently spoke about the need for us to speak out as Catholics via the media. Grandin Media (a diocesan media company in Canada) reported his strong words.
"I don't think as clergy we should be running away from this," Bishop Henry said. "Right now it is very uncomfortable to be wearing a Roman collar … even when I'm travelling, it's much simpler to go incognito, to wear my secular clothing.

"But I've decided this is not what the Church ought to be doing. The Church ought to be saying, 'OK. I'll go there. I'll wear my collar. If you want to talk to me about sexual abuse by clergy, let's talk about it.' I'm not going to run from that sort of thing. You have to be engaged with the society." […]

"We ought to be talking to the press. Tell them what we're doing. If they don't like it, well that's OK. We shouldn't run and hide. One of things we have to do is not be afraid of the media. Yeah, they're going to be tough on you but that's OK. They can ask the tough questions, but we've got the tough answers too."

Ironically, Bishop Henry said it's the very same media and mass communication that perpetuate a culture that sidelines religion and people of faith.

"We're dealing with a culture that is making it very, very difficult to even be open to the truth, to hear voices of the truth or to even receive moral guidance," Bishop Henry said.

"If you want to find out what's going on in your culture today, just stay at home and watch a couple of hours of television. Rarely do you see God, faith, church, religion taken seriously by anyone."
Reaching Youth
Later he spoke about how this attitude is important for reaching youth.
Bishop Henry said the Church once had what he called the "Little Bo Peep theology," that if young people were left alone eventually they would return. Instead, youth are under "enormous pressure" in a secular culture as they try to find their identity without being labelled "some kind of 'Holy Joe' or oddball."

"I don't think they will come home if you leave them alone," Bishop Henry said. "Some will find their way, but others will need some accompaniment, and they're going to need invitations from some of the people who have substance and significance in life and in faith."

To that end, the Church must find a way to "consciously evangelize" and prepare the ground for young people.
You can read the rest on Grandin Media.
Media-savvy Catholics
So often we Catholics can hide from the media or give them non-committal, public-relations-esque responses. Instead, we should use the media to reach souls. Bishop Henry realized this in his years of challenging immoral aspects of Canadian culture and government. He speaks from experience of being the strongest voice on important moral issues in Canada, such as against legalizing gay marriage. I met him several times: he is kind and gentle in person. However, he is firm when you get to a moral issue. (He was the bishop where I grew up and my family still lives there, so meeting him is not so exceptional.)
We should imitate both his words and example in providing a strong Catholic voice in the public sphere. It is not enough for us to believe what the Church teaches. By baptism, each of us has the call to spread it. We should never be afraid to share the truth that Jesus taught us. As Jesus said, "Go therefore and make disciples of all nations… teaching them to observe all that I have commanded you; and lo, I am with you always, to the close of the age." (Matthew 28:19-20)