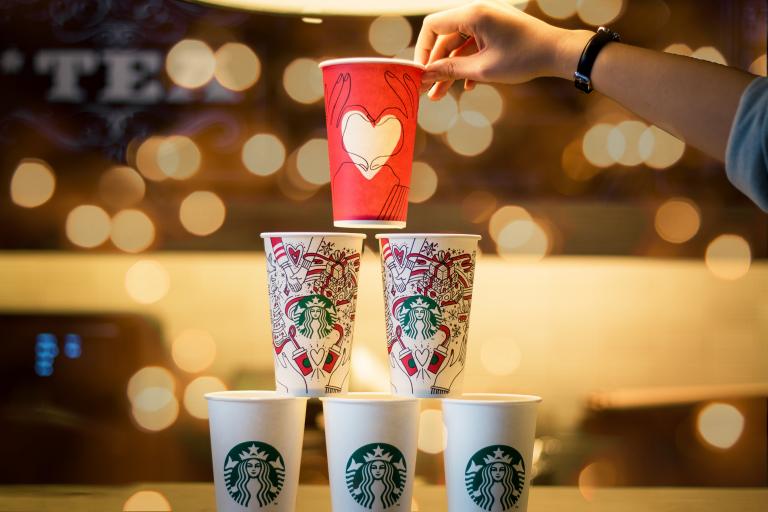 Yes, you read that right. All public forums and all Catholic institutes should ban porn. It is surprising that some secular businesses have gotten the message about the damage porn causes before some Catholic institutes. These are not businesses known for being particularly Christian either. I offer details of Starbucks, Tumblr, and Notre Dame, followed by a few comments to conclude.
Starbucks
Business Insider covered how Starbucks was banning porn:
Next year, the coffee giant plans to introduce a new tool meant to prevent customers from viewing pornography or other explicit content in stores. While watching pornography is banned at Starbucks locations, the chain does not have content blockers on its Wi-Fi service.

"To ensure the Third Place remains safe and welcoming to all, we have identified a solution to prevent this content from being viewed within our stores and we will begin introducing it to our US locations in 2019," a Starbucks representative told Business Insider in an email on Wednesday.
The article also notes many other restaurants with free internet, including McDonalds's and Chick-fil-A, have filtered internet.
Tumblr
On December 17, Tumblr will start banning adult content on their site.
Adult Content. Don't upload images, videos, or GIFs that show real-life human genitals or female-presenting nipples —this includes content that is so photorealistic that it could be mistaken for featuring real-life humans (nice try, though). Certain types of artistic, educational, newsworthy, or political content featuring nudity are fine. Don't upload any content, including images, videos, GIFs, or illustrations, that depicts sex acts.
Notre Dame
80 students have asked Notre Dame to ban porn on the school's WiFi. 1,000 – over  10% of ND students – later signed in support. As Newsweek reported:
College men are attempting to ban pornography on campuses across the country, The Daily Beast reported.

Eighty male students at Notre Dame University wrote an open letter in the school newspaper asking for a porn filter on the school's Wi-Fi.

"This filter would send the unequivocal message that pornography is an affront to human rights and catastrophic to individuals and relationships. We are calling for this action in order to stand up for the dignity of all people, especially women," the letter read. "The overwhelming majority of contemporary pornography is literally filmed violence against women — violence somehow rendered invisible by the context." […]

Female students wrote their own letter supporting the initiative promoted by the campus men.

"The wide consumption of pornography does irreparable harm to relationships between Notre Dame men and women. This demeaning and often violent content encourages its users to place the selfish seeking of personal pleasure over the development of committed relationships," the women's response note read. "It makes people believe human connection consists of fleeting sexual intensity opened and closed as easily as a web browser. Thus, it essentially takes away the ability to love." […]

Although Notre Dame is affiliated with the Catholic Church, attendees of schools including Harvard, Princeton and the University of Pennsylvania also expressed interest in initiating similar efforts to install porn filters on campus Wi-Fi.
Administration Says Nothing about Porn
I searched many different news articles on the topic but found no response from the administration. There was not even a causal response that they would even look into banning porn. An article from Verily noted that it would be legal for the university to do that. Mary Rose Somarriba said, "Universities like Notre Dame can simply enforce its already existing laws against porn use on their servers."
Porn should be Banned
The Newsweek article above includes some info on the dangers of Porn:
However, The Washington Post said that at least 24 studies from 2011 onward show that porn detrimentally impacts brains. Further, research analyzing 22 studies from seven countries showed that "porn use is significantly associated with attitudes conducive to sexual aggression and to engaging in actual acts of sexual aggression in both males and females."
We need not go into every detail but porn is generally not a good thing for people. Even for those who hold a libertarian view that people can do what they want, let them pay for it themselves. A libertarian should see the freedom of people to restrict the use of what they paid for. I realize that since politicians have abandoned any serious legal restrictions pornography (as I noted two weeks ago), the movement has shifted to asking companies to ban porn or offer filters. Either way, the end result of less porn and less sexual crimes is achieved.
Let's keep fighting for a porn-free world! If we can't get that, let's fight for a public forum free of porn and no porn for teens. Say no to porn.
Notes:
Thanks to Marcel LeJeuene who first pointed this out in a Facebook post.
Please support me on Patreon so I can make more content like this. $2 a month helps and gets you my weekly news summary email.