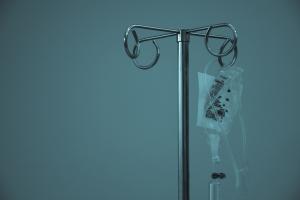 As Catholics, we understand every human has a unique dignity. Society denies dignity in many cases. We have made strides in the pro-life movement to see the dignity of the unborn; however, I think we can grow a lot in understanding the dignity of the disabled.
A recent story illustrates this need. A female patient who's been in a vegetative state a decade was pregnant. However, as someone told Arizona's Family, "None of the staff were aware that she was pregnant until she was pretty much giving birth." Yes, you read that right! They paid so little attention to her that they didn't realize that she was pregnant until minutes before birth: she lost her period and gained weight but nobody noticed.
The New York Daily News continued:
Staff at Hacienda HealthCare in Phoenix realized something was wrong with the patient when they heard her making noise.

"From what I've been told she was moaning. And they didn't know what was wrong with her," the woman said.

The source said a nearby nurse delivered the baby, noting the baby was healthy.
How Did She Get Pregnant?
It's good that the baby is healthy but how did she get pregnant? The Daily News explains:
After a near-drowning incident, the woman was left in an unresponsive state and needed constant care, which is why the Dec. 29 birth prompted a sex assault investigation.

The patient wouldn't have been able to consent to sex or defend herself from sexual assault — and couldn't even vocalize she was pregnant.
Arizona's Family quotes the local group fighting sexual assault.
The Arizona Coalition to End Sexual and Domestic Violence spokesperson Tasha Menaker is "horrified" by the allegations and worries there could be more alleged victims.

"In sexual assault cases, it's not uncommon that perpetrators have multiple victims and so that would be a concern for us," she said.

"Our hope is that there will be a thorough investigation that identifies the person who did this and for some reason we weren't to see a thorough investigation, we would take further steps," said Menaker.
As this patient was in a center with many in a vegetative state, the number of those who were victimized could be very high but hard to prove.
We can't know how long she was in labor, and thus in pain, before someone noticed.
Letting the disabled be sexually assaulted is a grave affront to human dignity. Fortunately, bringing cases like this to the light should help change the situation that many of these people live in. Just like the unborn, these people can't advocate for themselves so need us to advocate for them. People in situations like this are facing possible euthanasia, but also possible sexual or physical assault. If we believe in the dignity of each person, we'll work protect the dignity of the disabled like this woman.