As I have written online things, a few times I've had ideas for interesting shirts, mugs, etc. Recently, I decided to put some of these into action and opened up a Redbubble store where you can buy these items. All are available on a wide variety of products. I will explain each of the five designs I came up with then talk about the dynamics of the store itself as I value transparency. If you click on the headline or image for any, it will go to where you can buy them.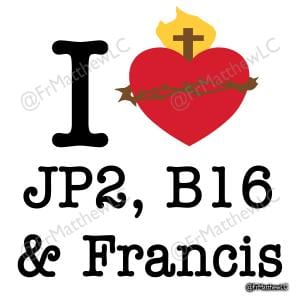 To me it has been a great shame that Francis has been put in opposition to his predecessors. I think all 3 are valuable and in line with each other. Why not love all 3? I put this on a design of the three popes onto the design of the famous "I [heart] NY." After I did that, I said to myself it should be a Sacred Heart image, not just a heart.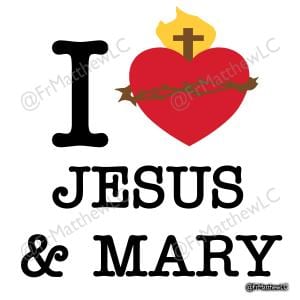 In my mind, this came after as an adaptation of the previous. I think the Popes is good to share among Catholics but this might work better for an external audience who are not Catholic. We need to tell people we love both.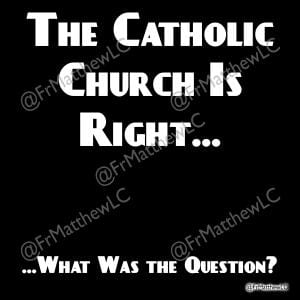 Here's a fun way to say you are fully Catholic and unafraid. We have so many who pick and choose about how they are Catholic but we should be fully Catholic.
Coffeevangelization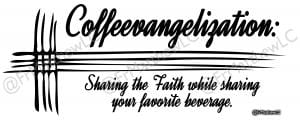 OK, that is one long word. However, I think the idea of friendship evangelization is important today and what better way to do this than over coffee. Share the best drink and the best faith.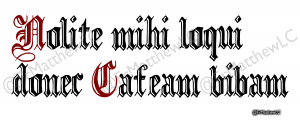 Many people have done different designs to say coffee first. I thought why not in the Church's official language, Latin. "Nolite mihi loqui donec Cafeam bibam" translates to English: Don't Talk to me before I drink Coffee. THis was translated by Fr Alex Schrenk and if I sell 12 of them, I will send him one for free.
RedBubble Store
RedBubble is a site for artists to offer things for custom print. Things may cost a little more than elsewhere as each is printed once ordered. This allows me to offer a wide variety of different products for each design. As far as money, whatever you pay, I get 20% of that and RedBubble gets the rest for running the website, physically producing the product, shipping, etc. All the money goes to my community who is in need as our roof is leaking. I hope these designs inspire you or those around you.