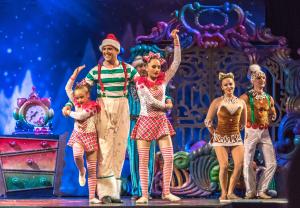 After the Pope's general audience on Wednesdays, groups that come in pilgrimage will offer a short performance. Most of the time, this is a choral piece or a short chant. However, occasionally this is a little more. Pope Francis had a circus performance on Wednesday, January 8. He looked happy and enjoying himself and they even asked him to toss a ring. This seems like a normal, healthy human reaction to a circus performance but unfortunately, some want to distort it to make the Pope look bad. Let's examine this exact moment and then go through similar events in recent years with other Popes to show this is not a Francis-Specific point.
Pope Francis and the Circus
Catholic News Agency reports on the audience:
Love for God is always fruitful, Pope Francis said Wednesday, stressing that Christ can bring good out of any circumstance — even an apparent failure.

"Paul teaches us to live through trials by holding on to Christ to mature the conviction that God can act in any circumstance, even in the midst of apparent failures, and the certainty that whoever offers and gives himself to God for love will surely be fruitful," Pope Francis said in the Paul VI Hall Jan. 8.
Then reports the visit of the Circus:
At the end of the pope's general audience, circus performers put on a show in front of the pope with dancing and acrobatics.
Rome Reports carried a video of the performance in their report on the audience. Several sites critical to Francis also carried video in an attempt to insult him.
Popes John Paul II and Benedict with Circuses
It's been a regular occurrence for Popes to invite circus performers to perform right after the general audience on occasion. Both Benedict XVI and John Paul II had performers do this.
In 2012, Benedict XVI hosted performers from 14 countries and they performed in Paul VI for an audience of 4,000. They even install a temporary circus tent and carrousel in St. Peter's Square. The reporter in this news report notes, "[Vatican] officials wanted to make street artists feel like they belong to the Catholic Church."
In 2012, Pope Benedict had trapeze artists perform an acrobatic feat while in town for an international convention on pastoral care for people like themselves.
In 2004, Pope John Paul II hosted Cirque du Soleil. ZENIT reports:
Accompanied by music, five acrobats, two jugglers and dancers of the Cirque du Soleil improvised a brief show on the stage of Paul VI Hall during today's audience.

At the end of the performance, the Pope expressed his pleasure and personally greeted and blessed the artists.
[EDIT: someone else pointed to
a video
of John Paul II enjoying a circus performance in 1980 as a comment to a social media post of this article.]
On top of this all, the USCCB even has a specific ministry to Circus performers and those with traveling carnivals.
So, circus performers have performed for all the recent popes. And all the Popes seem to enjoy it. So, seeing Francis do so should not be any cause for concern. In fact, we should be happy that things like this help him relax as being Pope is a stressful job and healthy human relaxation is a good thing.
Note: Please support me on Patreon so I continue writing like this.