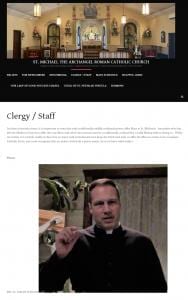 A year ago, I reported on how the diocese had dealt well with a priest once child pornography was found on his computer. Fr. Virgil Bradley Tetherow, who also goes by Fr. Gabriel Francis, was quickly suspended and later defrocked. I think the diocese did what they could to deal with the situation and they can't really do much except warn people once he's defrocked.
When I wrote the article in January 2019, it looked like Fr. Tetherow was no longer involved in the independent Latin Mass chapel as his name had been scrubbed from their website and Facebook page. (I should have used the Wayback Machine to save this, but I did not think of it at the time and nobody else saved the clergy/pastor page either.) However, his name is back on the St. Michael the Archangel website as the pastor. (See the image on the right.) Also, regular homilies by Tetherow from the past year are posted on the site.
On the other hand, Fr. Tetherow was part of the guild of St. Peter Ad Vincula, a loose group of "independent Catholic" priests. However, after they found out about what he had done about a year ago, he was removed. I could not find him or the chapel he is the pastor of on their website. I double-checked by calling, Fr. Bernard Hall, the priest in charge of the guild and he confirmed that Fr. Tetherow was no longer a first order member of the guild. However, the website of the chapel still has links back to this guild.
In my prior post, I drew three conclusions from his case. First, the Dallas charter generally works as things seemed properly dealt with once child pornography was found. Second, the Church is limited in what it can do about priests who abused. The Church kicked him out of the clerical state and cooperated fully with authorities, but having Church jails or similar would be problematic (& I doubt any of us want that). As he pled down to a lesser charge, he was not registered as a sex offender so there isn't much even the state can do once he served his time. Finally, I noted we need vigilance. We need vigilance to watch out for abusers and then to warn others about abusers once they are discovered.
A few months ago, the AP noted that 900 laicized priests work in jobs with access to children. I write this article to warn others about Gabriel Tetherow. I feel obliged as I am one of the few who has written about him in the past. There is not much the Church can do to prevent a laicized priest from working with children like those in the AP report, however, I can write this warning. I really don't want to write this article but feel obliged to correct my prior article as it comes up high in Google search for him and it incorrectly states he is not at the chapel.
Tetherow still claims to be a Catholic priest, while having admitted to downloading child pornography. I would recommend against independent or Sedevacantist Latin Mass chapels for various reasons. This chapel was listed on a directory of Sedevacantist Masses. I emailed them on January 23rd mentioning the issues with Fr. Tetherow, but they have not removed his Masses. I have no issue with Catholics who prefer this liturgy, but please find an FSSP, ICKSP, diocesan Latin Mass, or other extraordinary form churches in Communion with Rome. Even if you insist on going to one, I want to warn you against the one run by Fr. Tetherow due to his abusive past. If you are in the same area as Tetherow, St. Joseph's in Lancaster and Mater Dei in Harrisburg offer Extraordinary Form Latin Mass in Communion with Rome.
Child protection is serious and we need to try our best even when a priest is laicized to prevent him from having access to children. However, the Church has limits on her power in cases like this so we have to rely on warnings like this blog. Unfortunately, I cannot see much else that can be done here.
Note: My community relies on donations and writing these blogs pays almost nothing. You can support me monthly on Patreon or one-time via Acceptiva.