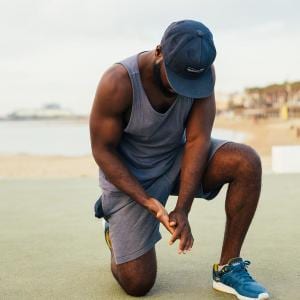 While we are all in some form of restrictions on gathers and most gyms are closed down, it is important to keep exercising for the sake of body, mind, and soul. Often exercise can help us get in a much better mental and spiritual state – it is not just for the body. I know if I go over 48 hours without a least a good walk, I start feeling groggy mentally and often even spiritually. I want to offer four ideas to help keep ourselves going during this time.
1. Walking or Jogging Outside
Some of us can walk or jog outside. I am blessed with a state park with many relatively empty jogging or hiking trails about 5 minutes from my house. The trails are a little busier than normal but social distancing is still not too hard by just moving off a little further off the trail to make space for others. However, I know many of you can't really go out and about. This is why I want to offer three other was to exercise.
2. SoulCore
SoulCore is stretching & core strengthening exercises while praying the rosary. It has a soft vibe with an ambiance of candles around the women. It describes itself:
SoulCore is a movement that pairs core strengthening, stretching and functional movement with the prayers of the rosary. A sensory experience combining candlelight, music, scripture and movement to nourish body, mind & soul and encourage deeper reflection on the virtues of the rosary.
3. Hard as Nails Prayer Workout
Justin Fatica leads the Hard as Nails Prayer Workout. His tag line is "offer it up" & the demo has him doing handstand push ups so an intense workout (if you've ever seen him speak, you would have guessed this). It describes itself:
Have you ever experience anxiety? Have you ever felt like the pain around you is too raw and intense? Have you ever wondered if there is a purpose for your suffering or the suffering of others. The combination of working out and feeding your soul is finally here. The Prayer Workout DVD will work wonders in your life and the life of others in just 38 minutes. "Offer it up" as a prayer for those suffering, for your own fears and anxiety, or for your family and friends.
4. Fitness Blender
This is not specifically Catholic but a couple who make simple free straightforward workout videos that are well balanced (& without issue, from the ones I've seen). They explain:
Fitness Blender was created by just two people: a husband and wife team of personal trainers who thought fitness should be accessible to everyone, regardless of their income. Both Kelli and Daniel felt like there was a lack of reliable health and fitness information on the web, and too many people in the industry were more focused on monetary gain or appearance than they were on good health.
Hopefully, these suggestions for exercise help you stay healthy while confined due to coronavirus.
Note: My community relies on generosity from people like you to keep writing. Please consider a regular donation via Patreon.