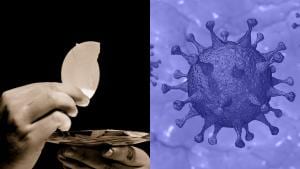 Obedience to the spirit of a command is a virtue. If your bishop suspended public Masses, please don't flood other Masses.
I'm seeing some Catholics post online about how to circumvent their bishop's rules in response to COVID-19, and get the Eucharist. Different people have suggested things like finding out when the priest celebrates private Mass and slipping in, going to other Catholic Masses – either in other dioceses or in other rites – or going to Masses where the priests aren't in Communion with the Pope.
First, it is great to have such hunger for the Eucharist. However, even though we Catholics are generally, asked to go to Mass each Sunday, that is not absolute. If someone is in some remote place and does not see a priest for 2 months, he has committed no sin by missing Mass. This happens in remote settlements like in the Arctic or Amazon, it happens in the military and it happens on scientific expeditions. In these cases, many bishops have explicitly lifted the Sunday obligation to make sure that nobody feels obliged to go.
Second, obedience is both to the letter and the spirit of what is asked. When a bishop orders A in order to avoid B, a healthy spirit of obedience avoids B in other ways. Take a different example: let's say a bishop orders no alcohol at parish festivals to avoid drunkenness at them. It might fulfill the letter of the law to invite alcohol vendors to set up 10 feet outside the parish festival, but if we really want to obey the spirit of the rule and to achieve the goal of no drunkenness at parish festivals we would say no to that too.
St. Albert the Great (Doctor of the Church and teacher of St. Thomas Aquinas) noted this ideal of virtue: "He that is truly obedient does not wait for a command, but as soon as he knows what his superior wishes to have done immediately sets himself to work, without expecting an order."
St. Faustina went so far as to point out she takes a word of obedience over the word of Jesus in her visions. She said, "I will follow Your will insofar as You will permit me to do so through Your representative. O my Jesus, it cannot be helped, but I give priority to the voice of the Church over the voice with which You speak to me." (Diary, 497)
Third, bishops are within their power to suspend public Mass to avoid transmitting diseases. St. Charles Borromeo did similarly during the plague, many places did so during the 1918 flu epidemic and there are many circumstances where this was done locally in smaller epidemics. I am not an expert on public health and most (maybe all) of the bishops are not, so we need to rely on public health experts. It takes humility to admit we don't know everything. Also, consulting with experts is a great way of making prudential judgments. Right now, the latest guidelines from the top experts in the US ask to avoid large gathers of more than 10 people.
As well, given the guidelines are to avoid groups under 10, it is very unlikely that whatever Mass someone is trying to slip to will be less than 10. It can possibly spread the COVID-19, which the bishops have asked us to avoid. Slipping out to Mass is against the spirit of what the bishops asked.
We priests are trying to adapt to new situations. It might take a bit of time as we have to learn. I started Livestreaming Mass right away but so far I've had issues with audio twice. We want to get you the sacraments in person or at least virtually, and we want to feed you spiritually, but we also want to protect the community from a deadly virus. Right now, the best way to do that is to temporarily suspend Mass. That is what the bishops and priests have done. None of us have wanted to do this, but we cannot see a better option at the moment.
Many churches are open for adoration by small groups and this is a great time to develop daily family prayer habits now that you have more time together and fewer things to do in those hours.
Let's work through this time where most should only attend Mass virtually with a spirit of faith. Hopefully, it helps us grow so we hunger more and more for the Eucharist. The first Sunday back we should all be like those RCIA candidates or scientific researchers at the South pole who have longed for the bread of heaven.
Note: please support me via Patreon to help continue making content here.