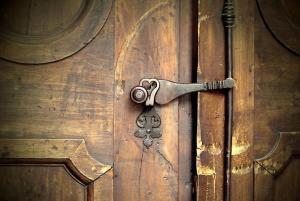 If anyone still questions why Catholic churches have suspended public Masses? It's because we love our fellow Catholics and don't want to expose them to likely danger. Here are four examples of how that can happen at churches or similar.
None of us priests are happy with the situation and wish we could celebrate public Mass, give you all Communion, have big family baptisms and weddings, etc. One bishop said it was the most painful decision he'd ever made:
The decision to suspend Masses in the Diocese of Providence is the most painful decision I've had to make in my 27 years as a bishop. I cannot imagine asking our people to go without Mass and Holy Communion, especially as Easter approaches. But, it has to be done.

— Bishop Thomas Tobin (@ThomasJTobin1) March 16, 2020
The reality is that going to Church gets us in contact with others and that can spread the virus. Part of the Christian virtue of prudence is trusting experts in a field that isn't our expertise. So we should follow health recommendations. God might perform a miracle to protect us, but even Jesus didn't rely on miracles when the devil told him to jump off the temple.
Here are some cases where that actually happened.
60% of Cases in South Korea from One Church
BBC reported about this church:
About 60% of the country's more than 4,000 confirmed cases are sect members. Deaths nationwide now stand at 28. […] [Note: this article is almost a month old so the number of cases in South Korea has gone up significantly. The story below about France mentions that 5,000 cases have been linked to this church.]

"Although it was not intentional, many people have been infected," said the 88-year-old leader [Lee Man-hee of the Shincheonji Church of Jesus]. "We put our utmost efforts, but were unable to prevent it all."
A French Prayer Meeting Spreads COVID-19 Across the Country
Reuters reported on this meeting that happened before any restrictions on large gathers were asked:
From the stage of an evangelical superchurch, the leader of the gospel choir kicked off an evening of prayer and preaching: "We're going to celebrate the Lord! Are you feeling the joy tonight?"

"Yes!" shouted the hundreds gathered at the Christian Open Door church on Feb. 18. Some of them had traveled thousands of miles to take part in the week-long gathering in Mulhouse, a city of 100,000 on France's borders with Germany and Switzerland.

For many members of this globe-spanning flock, the annual celebration is the high point of the church calendar.

This time, someone in the congregation was carrying the coronavirus.

The prayer meeting kicked off the biggest cluster of COVID-19 in France – one of northern Europe's hardest-hit countries – to date, local government said. Around 2,500 confirmed cases have been linked to it. Worshippers at the church have unwittingly taken the disease caused by the virus home to the West African state of Burkina Faso, to the Mediterranean island of Corsica, to Guyana in Latin America, to Switzerland, to a French nuclear power plant, and into the workshops of one of Europe's biggest automakers. […]

As the faithful gathered on a clear Tuesday evening in the church, an old shopping center converted into a 2,500 seat auditorium, the disease seemed remote. France had 12 confirmed cases, according to World Health Organization (WHO) data. There were none in the Mulhouse area.

France, like other governments in northern Europe, had imposed no restrictions on big meetings. There was no alcohol gel for the congregations to clean their hands, no elbow bumps instead of handshakes.

"At the time, we viewed COVID as something that was far off," said Jonathan Peterschmitt, son of the lead pastor and grandson of the church's founder.
A Washington State Choir Practice Kills Two
MSN reported on this case where the avoided touching, practiced social distancing at least to some degree and half the choir stayer home.
With the coronavirus quickly spreading in Washington state in early March, leaders of the Skagit Valley Chorale debated whether to go ahead with weekly rehearsal.

The virus was already killing people in the Seattle area, about an hour's drive to the south.

But Skagit County hadn't reported any cases, schools and business remained open, and prohibitions on large gatherings had yet to be announced.

On March 6, Adam Burdick, the choir's conductor, informed the 121 members in an email that amid the "stress and strain of concerns about the virus," practice would proceed as scheduled at Mount Vernon Presbyterian Church.

"I'm planning on being there this Tuesday March 10, and hoping many of you will be, too," he wrote.

Sixty singers showed up.

A greeter offered hand sanitizer at the door, and members refrained from the usual hugs and handshakes.

"It seemed like a normal rehearsal, except that choirs are huggy places," Burdick recalled. "We were making music and trying to keep a certain distance between each other."[…]

Nearly three weeks later, 45 have been diagnosed with COVID-19 or ill with the symptoms, at least three have been hospitalized, and two are dead.
43 With Symptoms from a Chicagoland Evangelical Church
The Christian Post reported the meeting of a small Church in a Chicago suburb.
Several members of an Illinois Pentecostal church are either at the hospital or in home quarantine after at least 43 congregants fell ill following a revival service two Sundays ago, and at least 10 of them have tested positive for the new coronavirus.

In a Facebook post Wednesday night, Layna LoCascio, wife of pastor Anthony LoCascio who leads The Life Church of Glenview, said at least 43 of the approximately 80 people who attended a March 15 service at their church have fallen ill and everyone who has been tested for the new coronavirus has come back positive for the virus.[…]

"We have 43 infected (at minimum) from our church or connected to our church from our last service on March 15th. They all haven't tested but whoever gets a test done ends up being positive, and we all have the same symptoms. It's just not easy. It's especially not easy when you're a leader and a pastor of a precious church and we all got infected together," she wrote.

Church leaders said the meeting was held days before the governor's stay-at-home order. However, it was after officials called for large public events to be scaled down to 1,000 people and for private ones to have a maximum 250 in attendance.
Conclusion
As I noted in the introduction, nobody is happy with suspending public Masses. However, unfortunately, we want to avoid situations like those above. Church services always have a risk of passing infection but now that risk is substantially higher than most other times. None of these were Catholic Churches but God never promised freedom from illness just because we are Catholic. God gave us reason and experts who could help inform that reason. The bishops are making tough decisions in these days, but suspending public Mass temporarily seems to be the right one. Let's support them.
Notes:
I had posted a shorter version of this as a Twitter thread.
My community still needs donations and sponsoring me via Patreon is one of the best ways to help us out.