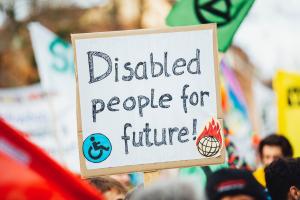 A while back, I spoke about welcoming autistic individuals to Mass and religious education on a Podcast. The Archdiocese of Cincinnati Respect Life has a regular podcast about a wider perspective of pro-life issues. They invited me on the podcast to talk about how ordinary Catholics can welcome autistic individuals. We spoke about issues like a sensory-friendly Mass, religious education, accepting autistic quirks, etc.
Jesus wants everyone to live virtue, to live the mission, to live like Jesus. This includes the disabled.
People might consider requests autistics have for sensory-friendly Masses new and exceptional. They are not. Much of the reason we did not have to do this in the past was the structure and form of the Mass was less sensory intensive. The Chruch inculturates the way we celebrate Mass to each group without losing the essence of the Mass.
Here's the podcast:
The original on BuzzSprout has links to most other podcast apps.
This may be helpful for people you know in the area near Cincinnati. I think most of it is things I've said in other places. The interview audio is not the best, but I hope that keeping getting the message out on various platforms. This was recorded ~2 months ago before coronavirus lockdown. I'm not sure if anything would have changed recording it now. This interview is by Bob Wurzelbacher.
Note: Please support me on Patreon to continue to push autistic ministry in the US & Canadian Church. I don't usually get money from interviews like this and my community could use donations.