I've done a bunch of podcasts on being autistic or how the Church can reach out to autistics. I recently spoke with John Aidan Byrne on his podcast Dig Life Deep! Most of the stuff about autism was pretty similar to other podcasts but we talked a little more about my family and my background in the Legion. John Aidan Byrne is a journalist who is originally from Ireland but lives in the USA. His podcast covers a mix of Catholic and general topics. I always listen to at least one or two episodes of a podcast before agreeing to go on and really liked his treatment of Norman Rockwell a few months back around when he first asked me on.
Player: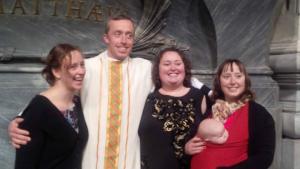 Fr. Matthew Schneider is a priest with the Legionaries of Christ ordained in 2013. He has over 66,000 followers between Twitter and Instagram and some 9,000 on Facebook. Fr Schneider is studying a doctorate in theology and lives in the Philadelphia area and has a book forthcoming in 2022. A native of Calgary, Alberta, Canada, Fr. Matthew has worked throughout North America. He is based today in Virginia, USA.

Fr Schneider has drawn much popular attention because of his perceptive and persuasive articles on social media. But it was his decision to go public about his autism that has drawn some of the attention as well as much curiosity.

In a video released April 2, 2019, World Autism Awareness Day, Schneider decided to publicly reveal with his autism diagnosis.

"I realize the need to evangelize this segment of the population," he said in the video. "We're about 1.5%–2% of the population. We have a much higher chance of being atheists, a much lower chance of attending religious services on a weekly basis. … We need someone to reach out to that community, to inculturate the Gospel to the autistic mind."
Listening to this podcast, I realized I need to work on avoiding filler words. Hearing myself, I sound like every second word is a filler word. I need to fix this. I know I use them sometimes but I seemed to use them more on this podcast than elsewhere. I'm not perfect and this reminds me of that fact. Hopefully, I can improve in this regard going forward, and hopefully, it does not negatively affect your listening.
Note: Please support me on Patreon so I can keep writing more analysis of Catholicism and autism.