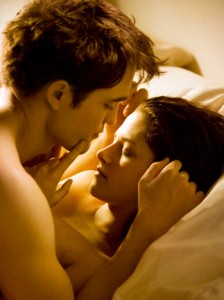 Me and this Bella Swan need to have words.
The heroine of the melodramatic love story "The Twilight Saga: Breaking Dawn part 1," at 18, gives up friends, family, hobbies, outside interests, college, and even life itself to be with her glittery vampire boyfriend.
He's not that cute and he's not that nice. She can do better.
Edward Cullen broods over her, sure, but he also makes decisions for her without consulting her. The vamp-man needs to learn how to have an adult conversation. It's not that hard. "Bella, what do you think about…..?" See?
But even if he were joy and happiness personified, I fear a love that isolates a girl from everything she holds dear. A relationship that requires a girl to cut off friends, lie to parents, remove herself from relatives, and give up her dreams is not something to celebrate. It's a reason to call an abuse hotline.
So I squirmed my way through "The Twilight Saga: Breaking Dawn Part 1," the adaptation of the first half of the fourth novel in Stephanie Meyer's record-breaking series. It begins as Bella (Kristen Stewart) marries her vampire love Edward (Robert Pattinson). Jacob Black (Taylor Lautner, who really looks like a llama), who happens to be a werewolf and loves Bella with all his loyal puppy heart, can't stand her marriage and goes howling off into the wilderness.
He returns, however, when Bella's passionate honeymoon has left her pregnant with a vampire baby that threatens her health.
Everything is very emotional, like a good old fashioned soap opera, and Lautner takes off his shirt in the first 30 seconds, so fans should be happy. The wedding is given a lingering treatment, with the dress and the ceremony shown in loving detail. Likewise, the movie doesn't skimp on Bella and Edward's passionate wedding night sex.
With the sex, as with the later birth, the director had to work with the graphic source material but render it in PG-13 format so that moms would bring their teen and tween girls. The result is a bit murky. There are some naked backsides and plenty of movement in bed, but it's reigned in and the camera strays away from anything too steamy. Likewise with the birth. Most of the action happens out of sight of the camera, which makes it hard for novices to figure out what's happening.
Defenders of the Twilight Saga point out that it promotes chastity until marriage. Bella's decision to continue a dangerous pregnancy to term is absolutely a pro-life statement. She even argues for her baby against some who would abort.
Laudable things, I'm sure. But they come at a high cost. Bella's obsession with Edward may be what it feels like to fall in love, but it's an immature and potentially dangerous relationship. In one scene, Edward doesn't respect Bella even enough to tell her what someone said over the phone regarding her own pregnancy. He simply packs for her without explaining.
Can't we have chastity and respect too? Is that too much to ask?
Score: D
Rating: Rated PG-13, the film was originally rated R, but modified. The source material includes passionate married sex and a bloody birth. Both are depicted, but for the PG-13 rating, most of the action happens beyond the sight of the camera lens.
Who Should See It: Only fans of the series. Think twice about teens and tweens, depending how comfortable you are with them seeing portrayal of sex and bloody violence.