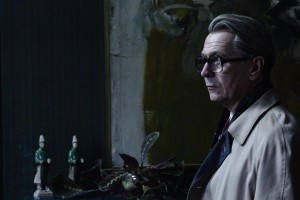 If the Cold War spy story "Tinker, Tailor, Soldier, Spy" seems slow to you at first, it is by design. Director Thomas Alfredson set out to remake the novel by John Le Carre with less flash and more quiet than your average thriller.
"The greatest challenge was to create as much space for silence as possible," when we talked in Washington DC, "So that the audience could not just digest but also chew some information before swallowing."
The result is a slow paced story that does not spell out the plot for the audience but relies on a narrowing of the eyes, a sideways glance, or a hunch of the shoulder to tell volumes.
Gary Oldman, who was also in the interview, stars as George Smiley, a senior operative in Britain's MI6 spy agency during the height of the Cold War. With his boss Control (John Hurt), Smiley is forced out after a mission in Hungary ends in the death of a friend and co-worker. Things are never as simple as they appear, however, and Smiley is drawn into investigating his old friends and compatriots to find a suspected mole at the highest levels of the agency.
Like soldiers on the battlefield, the spies' focus has narrowed from grand ideals to the trust they share with their brothers in arms. "The Cold War is a backdrop to the story about these very lonely, very damaged people," Oldman explained, "The themes are really about love, love lost, friendship, betrayal, loyalty on a very personal level."
Personal because with all their cloak and dagger ways, the only people who truly know and understand the spies of the MI6 are the other spies of the MI6. As Smiley gauges the frantic mole accusations of field operative Ricki Tarr (Tom Hardy), he repeatedly remembers a Christmas party at MI6. His co-workers chatted, drank, toasted each other, danced, and sang together. Like a family, they sometimes disliked or resented each other, but also like a family, they knew each other better than anyone else.
Was one of them using this human weakness for attachment to destroy the others?
Although Oldman does a masterful job of portraying the tactiurn Smiley, the movie relies a bit too much on the audience following his tiny physical clues. At best it's mysterious. At worst, it's downright confusing. The early 70s are portrayed not in Mad Man glamour or Austin Powers extravagance, but in grimy rooms and polyester suits. Across London, the discos may be swinging, but MI6 is all cement blocks and industrial file cabinets. Rated R for violence, some sexuality and nudity, the movie is more about character development than shocking you with disturbing images.
Although confused in the beginning, I was enthralled by the end. The movie is a giant puzzle, one that is fun to piece together.