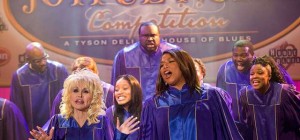 "I pray every day that God will let me be a blessing and a light in the world," the legendary singer Dolly Parton told Patheos in a New York conversation about her new film, "Joyful Noise." Although this is her first live action movie in a long time, Parton was happy to join the cast of this comedy, which never shies away from its religious message.  "I'd been praying hard for something good," Parton said, and with "Noise," she seems to have found it.
The film tells the story of two dueling women in a small Southern community eager to revitalize the local church choir. Parton plays G.G. Sparrow, the widowed wife of the former choirmaster, and Queen Latifah stars as Vi Rose Hill, another singer who becomes the new choir director. When the local pastor threatens to shut the choir down,
these two women fight to save it as a major singing competition approaches. Added to the tension between them is the arrival into town of Sparrow's grandson (Jeremy Jordan), who starts dating Hill's daughter, Olivia (Keke Palmer).
Although Latifah and Parton spend much of the movie with their manicured nails at each other's throats, in real life, the actresses are quite fond of one another and had a blast as they discussed the film's religious messages together. Both noted that one of the most distinctive things about this film is the fact that it never shies away from discussing faith or Jesus Christ.
These two Oscar nominees are women of faith and were glad to be a part of this production, partly because of its religious undertones. Latifah said that she "appreciated being part of a film where the word God was used." She said that as an actress who has been working for a number of years in the business, "it was just refreshing to do a movie that is based in Christianity for a change…"
Perhaps more films about faith aren't made, Latifah said, because film studios are often trying to broaden their films' appeal as much as possible to find the largest audience possible. "Everyone is trying to placate to every… religious or non-religious person," she said, adding that the studios are often focused on the money that the film could bring in. Of course, "Joyful Noise" runs the risk of alienating viewers who aren't interested in seeing a Christian message depicted onscreen but Parton has some advice for those people: don't go. "If those who don't want to be involved in it just don't need to go," she said.
Ironically, writer/director Todd Graff isn't a Christian himself. He's Jewish but grew up in a religiously-musical household. When writing the film, he envisioned Parton in the role of GG but was hesitant about the idea. "I wrote it for her," Graff said, "except she hadn't made a movie in twenty years."  Parton signed onto the film, noting that the role was "tailor-made" for her. She noted, "How else would you explain it? This Jewish guy writing about Jesus…" She added, "God was good to me… He's worked through the Jews before."
The film is rated PG-13 for some profanity and several references to a choir member sleeping with a fellow singer that leads to his untimely death. There are only a few brief references to this situation but this silly and out-of-place storyline isn't enough to diminish the film's positive message and its great musical moments.
"Noise" may not be a great film but it's a solid one that is worth taking a look at. The scenes of Latifah and Parton facing off against each other are especially well-done. I only wish that the film would have focused on them more and less on some of the silly supporting players.
Despite its flaws, though, "Noise" is still a joyful time at the theater. It opens this Friday in theaters nationwide.