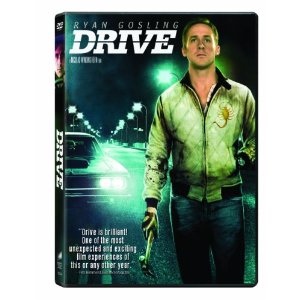 Bottom Line: Underneath its stylized direction and shocking violence, DRIVE is a fantastic tale about a man fully and selflessly committed to protecting the weak and innocent.
The Gist: When a strong, silent type (Ryan Gosling) meets a single mother (Carey Mulligan), they forge a sweet connection. He's got secrets, however, which involve working for criminal elements and she has a husband in prison. The two worlds collide, threatening her and her little son, and forcing the Driver to call out a network of criminals across Los Angeles.
The Verdict: Watch it if you can stand violence. The acting is all top notch, especially from Gosling, Mulligan, and Albert Brooks. Like an old Western, a man of violence takes on men of violence, even knowing that by doing so, he both protects and perhaps loses the innocent woman he loves. The directing is fantastic, unlike anything you've seen, art house meets action. It made number seven on our list of the best movies of 2011.
Be Aware: Rated R for extreme violence, language, and some nudity. Little to none sexuality. But the violence is extreme.