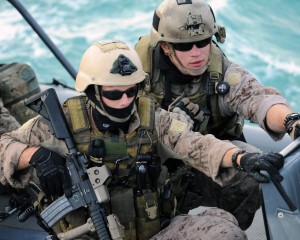 The problem is not with the new "Act of Valor" movie that opens today. It's a rousing manifesto. The problem is with some players in Hollywood and a segment of the American public who consider modern American soldiers something to be pitied rather than admired.
They respect the soldier in Afghanistan, Iraq, and the Global War on Terror, just not what they do. There is an unspoken feeling that the American troops have been duped into something unsavory, as if looking for a better life or free education, they signed up and found themselves in an icky – if not downright dishonorable – war.
In "Act of Valor," the soldiers speak for themselves and their message is loud and clear: We know exactly what we are doing. We consider it worthwhile. We consider it an honor.
Filmed over two and a half years during live-ammunition training missions with real, active-duty Navy SEALs, the film is pulse-pounding, exciting, and what we call bad-a&&, but it is also a rejection of and answer to the above attitude.
It begins with a letter written to the son of a soldier articulating the SEAL's code of honor. Nothing about the code is ambivalent or apologetic. To be dangerous is sacred. To be strong and kill those who would hurt your family or the family of other Americans is heroic. They are the "damn few" who stand between us and violence.
Their first assignment – to rescue a CIA operative who has been captured by a mobster with terrorist ties – goes off with guns blazing. The thugs guarding the compound never see them coming. First, the SEALs parachute in, hitting their target with precision, then making almost no sound, they approach. They pick off the defenders silently, in one case – rising soundlessly from the water to catch a falling body just before it can make a splash. Once engaged in a gunbattle, they don't hold back. Finally, with the wounded operative in tow, they speed toward their extraction point, pursued hotly. The enemies of America are met on a river bank by several boats of soldiers, guns blazing, lighting up the forest.
Boo-ya.
No one stops to emote over the fallen thugs who ambushed one CIA agent and used a power drill on the other.
Soon, information from the agent leads them to a global terror plot against American cities. They track elements all over the world, from Africa to Eastern Europe to Mexico. We're treated to some unbelievably cool action sequences: helicopters dropping boats full of men into the water, submarines rising for mere minutes before diving again, chases through South American slums.
There are some bad guys in the world.
The scary part of the movie? The bad guys are even badder, smarter, and more determined than depicted in the film. As the plot begins to unfold, it's tempting to think it's farfetched, that no one would put that level of resources or intelligence into killing Americans.
Then you think of how intricate and carefully plotted 9/11 was, and you feel a shiver of fear up the spine.
It's even more tempting to think that the valor of the SEALs is exaggerated, until you remember things like the pirate hostage rescue or elimination of Osama Bin Laden. The directors assure us that the incredible, macho things shown, especially at the satisfying ending of the movie, are real, recorded acts of valor. They did not make it up.
It is true there are some weaknesses in the film. Navy ships and planes always seem to be in a perpetual sunset, like a postcard. The SEALs do a fantastic job of acting – for people who shoot guns for a living instead of reading lines – but there are times you're painfully aware they're not actors.
Critics have accused the film of being too much action and not enough character development. I take this to mean that critics would prefer the men anguished over their jobs and had some sort of crisis of conviction. This they do not do. The more cynical among us have a hard time believing that the soldiers, in their heart of hearts, believe in what they're doing and in the code of honor they so effectively express. It's a tough job, undeniably, but I'm guessing there is nothing more, nothing hidden, no inexpressible angst or existential horror.
Instead – and this is probably the thing to which certain segments object most – it makes you proud. Proud of the sacrifice and courage of our troops. Proud of America.
The film ends, as we knew from the beginning it would, with a military funeral. It ends with honor and patriotism. The credits do not list the names of the men shown in the film, but honor the 60 Navy SEALs lost in combat since 9/11.
We have no idea what they've done for us.
It's time to stop pitying them and time to get behind them.
The film is rated R for realistic violence and some language. No nudity or sexuality.
Check out our RedState Movie Mafia Podcast.
Read More:
Navy SEALs from Act of Valor: We Feel Hollywood Misrepresents Us