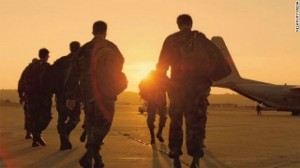 How do real soldiers feel about the ways they're represented by Hollywood?
Not so great, as it turns out.
"They felt that Hollywood misrepresented their community for so long that it would be great to get their story authentically told," explained director Mike "Mouse" McCoy.
With Scott Waugh,  McCoy directs of "Act of Valor," a film highlighting real Navy SEALS in their work tactics and code of honor. The movie follows a SEAL team as they rescue a covert agent and move to prevent the global terrorist plot she unearthed. Part action film, part warrior manifesto, it is an account from our armed forces on why they do what they do.
The two directors were no strangers to machismo. With long careers as stunt men in Hollywood and projects covering the world of motorcycle racing and surfing, they naturally seek out stories of strong men.
But when they started down the road that led to "Act of Valor," they were unprepared for the caliber of men they met in the United States Navy SEALS, men who offered a glimpse of the reality behind the Hollywood myths.
"That was what hit us right between the eyes when we met with them," added Waugh.
"What we were going in with was the Hollywood representation of the commando guy, some screwed up Rambo terminator guy. We met these men who were so humble and quiet, but so extremely intelligent, intellectual, down to earth. They were just so different than how they'd been portrayed it almost felt like a crime," McCoy told me when we sat down in Washington DC.
"They're fathers and husbands," said Waugh, "These kinds of complex characters. A warrior on one side, yet literally one of us. They have the same problems we have has humans. Taxes, these relationships with their kids when they're there."
For McCoy, despite all his previous bruising manly jobs, there was something more intense about the SEALS. "You really connect with the brotherhood really how deep that goes. Wow. I've never seen that before amongst men: men who will step in front of a bullet for each other. Once again, the sacrifice became really apparent. Ten years of sustained combat deployments. But more importantly, the families and the wives. When we sort of connected with them and what their families had been through during this time, we were like the only way to really do service to this is with the real guys and real scenarios and have an authentic look. And then it became how do we do this, what does this look like?"
Waugh and McCoy filmed the SEALS over two years, working with their deployment cycles to catch the soldiers as they did training missions. Unlike most Hollywood sets, they used real bullets and live weaponry. It's not your usual movie job. I'll give you the directors' description in a later post.
Update: Read about the making of the movie and why it's the real deal.