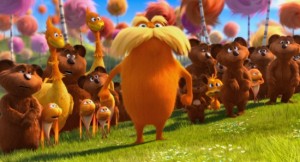 I did not see "The Lorax," the adaptation of Dr. Seuss's famous book opening today. I did, however, discuss it with John Hanlon on our Red State Movie Mafia podcast.
The story follows Ted (voice of Zac Efron) as he tries to impress Audrey (voice of Taylor Swift) by finding the elusive creature called the Lorax (voice of Danny DeVito). The Lorax is a bit cranky because all his trees have been taken.
John said the movie was good in its creation, funny and well-made, enjoyable. However, he cautioned that it carries a strong environmental message that becomes downright anti-business. It's as if there's no middle ground, he said, between liking trees and businesses wanting all trees to be destroyed. It sets up a false choice. Parents should be aware that the movie carries this message.
Ladies and gentlemen, The Lorax.
The Lorax is rated PG-13 for mild language.