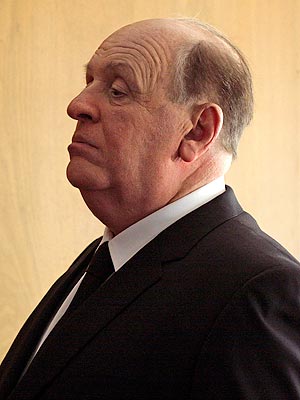 Is this photo:
A) A little-seen snapshot of the famous thriller director Alfred Hitchcock as he directed his second to last movie, Frenzy, in 1972?
B) Anthony Hopkins (Shadowlands, The Silence of the Lambs) as the titular character in the Alfred Hitchcock biopic creatively named Hitchcock?
C) A chauffeur to Dick Cheney who's been in the news recently for his uncanny resemblance to the late, great director?
If you answered B, you're correct. Anthony Hopkins is currently filming Hitchcock, about the director. Behold the power of the magic of moviemaking.
In case you were curious, Scarlett Johannson plays Janet Leigh, the actress in the shower in Psycho.
The movie is due out next year.
The picture comes from People, with a hat tip to The Playlist.