Fring and Mike are both dead. Jesse's out and Walt promises Skylar he's done making meth. And Hank has finally found a clue  linking Walt to Heisenberg. What now?
The final eight episodes of Breaking Bad are still a year away. While we impatiently wait to see how Vince Gilligan resolves (heals? punishes?) the bad that's been broken in the previous four and a half seasons, we look at some possible scenarios.
How do you expect/hope the impending showdowns will play out?
Walter v. Skylar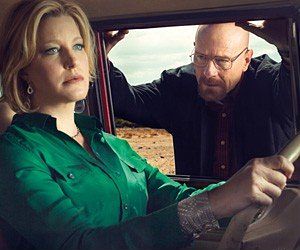 1. Recognizing that Hank may be on the Walt, Skylar privately confronts Hank and pleads for the protection of her family. Hank refuses to cooperate and Skylar ends up killing him. Walt destroys the evidence and goes back to his job teaching chemistry. The White family takes Marie into their home and everything goes back to normal.
2. Unable to take the fear, pressure, and anxiety of Walt's drug activity (and after some leading cues from Marie), Skylar accidentally finds the ricin and, despite not really knowing what it is, she pours it into the coffee she serves Walt for breakfast one day.
3. Skylar discovers that Walter, Jr. has started dealing drugs. Blaming Walt for his negative influence, she takes the kids and disappears just as the DEA arrives to arrest Walt.
Walter v. Jesse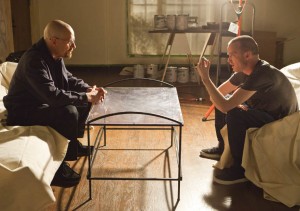 1. When they realize Hank is on to them, Walt tries to pin the entire thing on Jesse. Jesse ends up killing Walt, and after realizing he is now completely alone, he kills himself.
2. Skylar figures out that Hank is closing in on the case. On her own accord she kills Jesse and tries to convince Walt to blame Jesse for the whole thing. Walt must decide if he is going to protect the reputation of his partner or risk his own innocence.
3. The DEA brings Jesse in for questioning and Hank reveals that Walt is responsible for Jane's death and Brock's poisoning. Jesse negotiates with the DEA and the series ends with Jesse visiting Walt in jail, the ricin in his pocket.
Walter v. Hank
 1. Hank confronts Walt right away and after a series of threatening and angry interactions, Walt convinces Hank he really is out of the drug business (and has, in fact, helped to stop it by killing Fring). Instead of turning him in, Hank agrees to help Walt launder more of the money in order to provide for both their families. Everybody wins.
2. Hank secretly retraces Walt's steps throughout the last year, collecting all the evidence of his wrongdoings. Walt quickly realizes he is faced with the choice between getting rid of Hank (and the evidence) or facing conviction and serious jail time. When Hank refuses to negotiate with him, Walt sees no choice but to kill him and bury Heisenberg's identity once and for all…or so he thinks…
3. Walt learns his cancer has returned. He goes to Hank's office to confide in him and finds the evidence Hank has against him. In a confrontation gone wrong Hank kills Walt, in what he says was be self-protection. Skylar freaks out and disappears with her kids and a big suitcase full of the money from the storage unit. No one ever learns Walt's cancer had returned.
Let us know what you think is going to happen as Breaking Bad comes to a close. Comment from the options above, or create your own ending.
Post by Patheos intern, Samantha Curley.