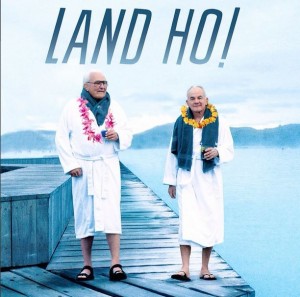 I think it's safe to say that comedy is the toughest movie genre in which to excel. At the risk of sounding like a killjoy, most contemporary examples fall safely (and I mean that word disparagingly) into one of two camps: the crass adult film that aims ever lower in order to shock with its raw sexuality or violence, or the flatulence-heavy kid flick that irritatingly winks at adult chaperones with its hip cultural references. What a treat, therefore, to see a comedy that dares to venture forth upon a road less travelled.
I advise those who depend on plot-heavy stories to search elsewhere, however. Land Ho! begins simply by introducing us to a pair of ex-brothers-in-law in their sixties. Mitch (Earl Lynn Nelson) and Colin (Paul Eenhoorn), despite genuinely caring for each other, haven't spent time together in years. After meeting up in Mitch's home city of New Orleans, Mitch informs Colin that he has generously purchased plane tickets for both of them to journey to Iceland. The more cautious Colin only reluctantly agrees to embark with his impetuous former in-law.
From there, the film gently unwinds itself around the pair's travels and their chance encounters with fellow adventurers: a cousin of Mitch's studying in neighboring Greenland, introverted honeymooners, and a solo photographer. Only gradually do we learn about recent painful events in Colin and Mitch's lives. Colin is hurting from a separation from his second wife, and Mitch (a physician) is struggling to regroup after his medical colleagues forced retirement upon him.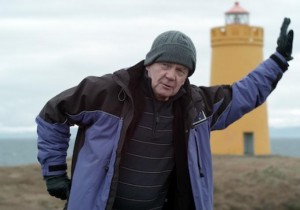 While the two leads in Land Ho! won't oust Felix Unger and Oscar Madison from their places of honor, they nonetheless form a pleasingly mismatched odd couple. Colin, with his kindly features and soft-spoken manner, reminds me of an idealized grandfather who would listen attentively and nonjudgmentally to your predicaments. Mitch, by contrast, wears an earthy, vulgar exuberance that would mortify yet inevitably amuse at family reunions. His blunt pronouncement that a tasty meal was like "little angels pissing on your tongue" is hilarious, while his later description of an Icelandic geyser is unprintable on a family website.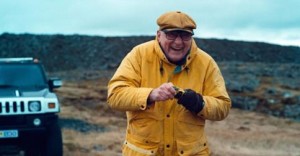 Like the famous actors who played the screen and TV versions of Neil Simon's Odd Couple, Nelson and Eenhoorn share a smile-inducing chemistry. Nelson is actually a non-actor, an ocular plastic surgeon in real life and cousin to co-director Martha Stephens. Eenhoorn, on the other hand, is a veteran Australian actor, finally gaining international fame last year as the similarly modest title character in the terrific indie hit This Is Martin Bonner.
While Mitch and Colin bicker at times, they thrive and revel in one another's company. Having been divorced myself, I can attest that Doctor Mitch knew what he was doing in prescribing a change of scenery and an opportunity for Colin to get outside of his head for a while. Both also realize that novel experiences are crucial to staying young and playful, as they taste funky foods in Reykjavik, dance on black sand beaches, relax in hot springs, and witness the eruption of the aforementioned geyser.
Co-directors and co-writers Katz and Stephens, unlike their actors, are still pretty darn young, each in their early 30's. Their artistic savvy belies their years, however, as they possess excellent comic timing and knowingly intersplice scenes of dialogue with exquisite Northern European scenery. (I'm sure I won't be the last viewer of Land Ho! adding Iceland to my bucket list.) The film's main weakness (a relatively minor one) resides with the music, which at times noisily overpowers the onscreen imagery and the movie's overall mellow vibe.
At a director's Q & A after the screening that I attended, Stephens disclosed that thanks to Sony's picking up Land Ho! for distribution, she quit her part-time substitute teacher job and now focuses exclusively on movie-making. This was happy news for her, no doubt, and I share her gladness. Warmly comedic and wise films with good characterization never wear out their welcome, and I eagerly await more gems from Stephens and Katz.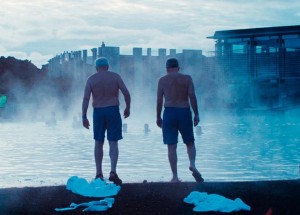 4 out of 5 stars
(Parents' guide: Land Ho! is rated R for some language, sexual references, and drug use. This film is appropriate for mid-teens and older.)