"You're the first gay people I've ever met."
"You're the first miner I've ever met."
From my own experience and based on what I've heard from countless others, such open interactions as we see in Pride are the primary way in which homophobia and related ugly "–ism's" are dispelled. Once you actually know a (insert member of historically disenfranchised group here), it becomes nearly impossible to keep hold of your stereotypes and tolerate devaluation.
Set during the yearlong British miners' strike of 1984, Pride tells how a group of London gay-rights activists come to the aid of a Welsh mining town in dire financial and material need as the strike lengthens. Led by the young yet forward-thinking Mark Ashton, this small Soho gathering of "poofs and a dyke" (their own words, not mine) realize that their group and the miners are facing off against the same set of antagonists: the police, the press, and dear old Maggie Thatcher.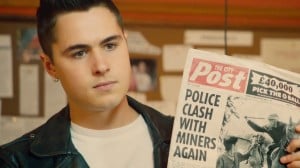 Forming the LGSM (Lesbians and Gays Support the Miners), our protagonists make their kindness personal by adopting the South Wales town of Onllwyn. Many villagers initially reject their unlikely patrons, powered by the twin fuels of misplaced machismo and narrow religion that so often fire the engine of homophobia, but with persistence by leaders of both sides, nearly all of the villagers come to love and appreciate their new friends.
Beginning small by holding out buckets for pocket change in front of shops and bars, the LGSM is emboldened by a newspaper headline labelling them as "perverts." Determined to subvert this smear attempt, they respond by organizing a "Pits and Perverts" benefit concert for their adopted town.
Director Matthew Warchus and writer Stephen Beresford have built off actual events and crafted a quick-witted, often very funny narrative. Ashton in one scene concludes that the bobbies have stopped harassing gays and moved on to miners, because they got tired of hearing so much Donna Summer music. In another sequence, as an older townsperson slowly comprehends that the pair of men in front of him are a committed couple, the duo braces themselves for the inevitable "who's the husband and who's the wife" question. Instead, the gents smile, and we laugh, when they're asked instead, "So which one does the housework?"
Warchus has a terrific ensemble to work with, a group that should appeal to all ages. Youngsters will recognize Andrew Scott (most recently Moriarty in BBC's Sherlock series), here portraying Gethin, a Welsh transplant to London, whose interactions with the villagers dredge up painful memories of rejection in his hometown and by his devout mother. Additionally, a couple of Harry Potter veterans, Bill Nighy and Imelda Staunton (Rufus Scrimgeour and Dolores Umbridge, respectively, from those films) play two villagers who quickly embrace the efforts of the LGSM.
Meanwhile, an old fogey like me appreciates another chance to see the underutilized Dominic West in a major role. So memorable as the flawed yet clever Detective McNulty in The Wire, here again he's given a good opportunity to show off his considerable skills as Jonathan Blake, a gay actor who is only slowly won over to the cause. A high point of Pride is a hilarious sequence in which Blake persuades Staunton's character to join him in a raucous disco number.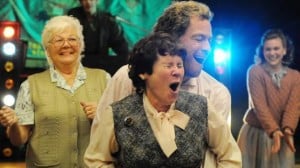 Also excellent are a couple of relative unknowns. Ben Schnetzer manages to do plenty of emotional heavy lifting as Mark Ashton, the mercurial, passionate linchpin for LGSM's action. In addition, Warchus and Beresford smartly weave an individual's emergence out of the closet into the bigger story, and here actor George MacKay draws the viewer into his character Joe's timidity and tentative first steps forward. I hope demanding roles continue to arrive for both of these actors.
Alas, Pride does have a couple of detracting weaknesses. Its narrative tempo does flag during its final 20 minutes, though the film finishes with gusto. And much as I felt drawn into the story and charmed by its ensemble, the individual characters could've benefitted from sharper definition and deeper dimensionality.
Nonetheless, this is a film that I hope many adults and teens will see. Pride's story invigorates with its admonishment to live authentically and unite to combat injustice, and furnishes a winsome reminder that the battle for equal rights is truest when it expansively encompasses all forms of acceptance and equality. And judging by the loud applause throughout the cinema at movie's end (the most prolific I've heard all year at a screening), Pride is literally a crowd-pleaser.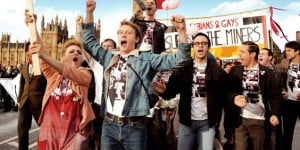 3.5 stars out of 5
(Pride is rated R. It has some f-bombs and a scene of goofy non-sexual clowning around with a sex toy. I would encourage viewing by teens 15 and over.)