Here we are yet again at the end of another year. 2015 is winding down and I have already been making plans and resolutions for the new year, casting vision and dreaming with God for what is ahead. One of my goals for 2016 is to spend a lot less time in front of a screen. These days anytime I can get away from one and interact with real people in real time sans digital devices is really worthwhile and refreshing.
And I have a confession. Soon after I wrote about the blessing of owning a flip-phone in 2015 earlier this year, I took the plunge and got an iPhone. Today I wonder how on earth did I ever live without one. It really is too easy to keep staring at that little screen. But when it comes to books, especially the Bible, electronic versions have no appeal. Call me a sentimental Luddite if you must, but I have a thing against Kindles because I dig hearing the crinkly sound, feel, and smell of the pages I'm turning. Plus, I prefer to write notes in the margins and underline the ideas that cause me to think deeply. Can't do that on a screen.
Having said all that, I will one make grand exception to my 2016 screen diet. An impressive YouTube video series I have been enjoying lately is called The Bible Project, animated short films that explore the overarching narrative and theological currents of both the Old and New Testaments. Launched by a few stellar pastors and scholars in Portland, Oregon, The Bible Project is set to make dozens more videos to cover every book of the Bible and its major ideas in coordination with their Bible Read Through Plan.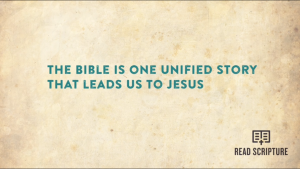 If you're anything like me, your experience with reading Scripture has been one where you sometimes struggle to understand its dense passages and larger themes, wondering how in the world it all fits together. But as I can also attest, reading the Bible has been a journey of learning how to hear the voice of God through each chapter and verse. Poring over the pages of the Bible is not about packing ones head full of information about God. It is an invitation to encounter God; it is about revealing Jesus. And when you encounter him in Scripture, it is impossible to leave unchanged.
These videos are creatively put together and serve as an excellent study aid for anyone grappling with the questions we all face when engaging the Word of God. Be sure to check out the video below:

_________________
Photo credit: Brandon Showalter, screen capture from The Bible Project's YouTube channel.