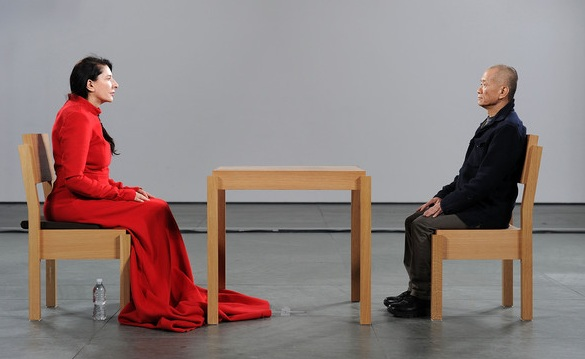 Due to a convoluted sequence of events,  I spent about half an hour in an Adoration chapel last night.  For the non-Catholics, Eucharistic Adoration is the act of spending time in a chapel with a consecrated communion wafer, believed to be the real presence of Jesus Christ.  A friend had felt a calling that I should go, and since I could spare the time and didn't want to be accused of being a bad sport, I went along.  (Not to keep you in suspense: I was not converted).
The time in the chapel reminded me of Marina Abramović's recent show at MoMA.  Abramović is a performance artist who, among other stunts, sat in a MoMA atrium with a chair open for anyone who wanted to sit opposite her as part of her installation "The Artist is Present."
I should mention that I have a really low tolerance for Abramović's brand of performance art, which I find trite (oh, look, she put two naked people in a narrow doorway so you have to squeeze through them to enter the exhibit. How subversive!) or dangerous (she once stood in a room with an array of objects visitors were allowed to use on her.  Although some were innocuous like lipstick, one was a loaded gun).  When I visited the MoMA during her installation, I was there for the Tim Burton exhibit.
The premise of Adoration is better than Abramović's piece.  In Adoration, at least there was an infinitesimal possibility of interaction (if I'm wrong about Catholicism), but at the MoMA the exhibit promised nothing but distance and alienation.  And it turns out, that was the experience I had in church, too.
A lot of the experiences that Catholics suggest to me (Adoration, prayer, etc) seem to be behind a firewall of faith.  It's supposed to have discernible effects, but only if you've already bought a little way in.  I'm willing to keep trying some of these proposals, to make sure I'm covering my bases, but it seems like a lot of these are an effort in futility even if I'm wrong about atheism.
I'm willing to make an effort (not knowing the all the rosary prayers off hand, I said 50 Hail Mary's and used my new ASL skills to keep count on my fingers), but the next time someone has an experiential idea for me to try, I'd like to hear a pitch as to why I might find it convincing or an admission that it's the equivalent of standing outside on a hill to try to get lightening to strike.