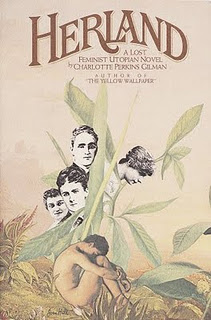 Kate Bolick's cover story for The Atlantic on living with the poor marriage prospects for women ("All the Single Ladies") prompted a lot of comment, but I thought Lea Halim had the most thought-provoking response in National Review ("Why Not Matriarchy?").   I'm going to summarize and quote to be able to comment, but do yourself a favor and read her piece in full.  Now, here's the pull-quote:
In a caricature patriarchal society, men have all the earning power, determine the structure of both the household and other institutions, and treat women as little more than domestic and sexual servants, often engaging the "services" of more than one (the "temporary marriages" practiced in some Muslim countries come to mind). In a caricature matriarchal society, men are little more than studs. In both cases, one distinctive need of the weaker gender is met effectively — the patriarchs address women's need for stability and physical protection, while the matriarchs satisfy male desire for commitment-free sex with multiple partners. But this comes at the expense of every other, loftier, need and desire, and distorts the humanity of both the stronger and the weaker sex.

The only alternative to the objectification of one sex is marriage, premised on monogamy and love. When men bind together and hold power, women do not participate in decision-making as equal partners. When women rely on their own support networks instead of men, men are shut out of the family. Only in monogamous marriage, in which the heterosexual couple, rather than either gender, wields power and constitutes the basic unit of society, can equality and true companionship between the sexes be achieved.
When women set up men-independent communities and traditions, according to Halim, they're writing guys out of culture. Family structures and traditions would evolve to do without what is scarce, and it would be harder for men to find a role in the new schema. Although she doesn't cite them, Halim's got a solid historical precedent in the evolution from extended family to nuclear family or the development of the
two-income trap
.
So if her forecast is plausible enough to merit caution, what are we supposed to do? Asking women to resist matriarchal structures and remember the dignity of men sounds a lot like asking them to martyr themselves and their children for the sake of the delinquent menfolk. You can't bring back a leg by taking away a crutch.
This is the problem I have with a lot of conservative (trad or libertarian) critiques of modernity. Getting rid of the governmental or societal constraints that you think are warping society doesn't mean we snap back to the old model. (Think back to Reagan's push to get the mentally ill out of institutions and into communities. A support structure didn't materialize, and most of them ended up on the street.).
If we're going to try to change culture, I wouldn't begin by asking women to give up the relationships they've formed to protect themselves. One good starting point is supporting the ACLU's fight against the School to Prison Pipeline. Take a look at what other factors, besides promiscuity, are uprooting men from their communities and try and neutralize them.
I've got my fingers crossed that plenty of men really do want more than sex and that they'll find a way to integrate themselves into whatever new form the family has taken. Maybe they can start as uncle-analogues and work their way up.