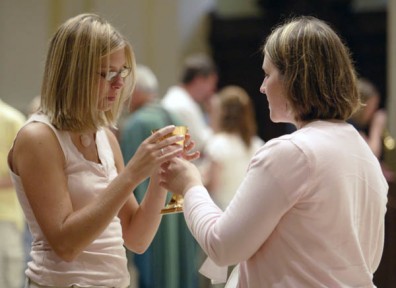 Yesterday, when I was attending Daily Mass, I was one of only four people present.  I sat up in front, and, after the priest had administered the Eucharist to himself, he motioned me up to assist as an extraordinary minister of holy communion, to distribute the Blood to the remaining parishioners after they received the Body from him.
I was quite nervous walking up and receiving the chalice, and hoped that terror-as-reverence was about the right disposition, as long as I wasn't paralyzed by it.
It was all over quickly; there were only three communicants not counting me, and when I walked back to my seat I was profoundly grateful.  First, because I hadn't mishandled the Sacrament.  And then, after a bit, because I had had moments when I was particularly moved at Mass or touched by the Eucharist, and I was glad to have possibly facilitated that for someone else.  And mostly I felt relieved that the unexpectedly highest-stakes part of my day was over.
But if it was natural to be frightened when I was suddenly responsible for carrying the Blood of Christ, why should it be natural to feel casual when I was carrying the Body and the Blood within myself out into the world.  The Mass ends with the word
Ite, missa est
; a dismissal with an imperative form of 
Go out!
It's a bit easier to remember reverence when I'm surrounded by the 'smells and bells' and when the chalice is a literal weight in my hand.  But my responsibility did not end when I handed the chalice back to the priest.  I am always in the position of either offering Mary's fiat or interfering with God's love passing through me to others.  Long before I thought of converting, this struck me as more than a bit terrifying.