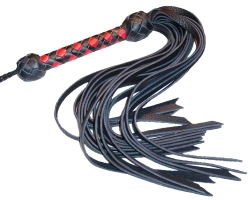 Looking through social media this morning, I saw more than a few scandalized comments about the news that a priest who had practiced some form of self bondage was being returned to ministerial duties.  Here's the gist:
The Roman Catholic bishop of Springfield, Ill., has returned a priest to ministry after an internal investigation into what the priest's own clinical therapist had diagnosed as "non-sexual self-bondage."

Bishop Thomas Paprocki said in a statement that the Rev. Thomas Donovan would be a chaplain to the Sisters of St. Francis of the Martyr St. George, and would move to the nuns' provincial house in Alton, Ill.

Last November, Donovan called 911 from the rectory of St. Aloysius Catholic Church in Springfield, where he was pastor, and told dispatchers he had placed himself in handcuffs and needed police help to free himself.
I saw several comments from Catholics along the lines of:
"If this were my parish, I would write the Bishop. No, I would go to the Chancery office requesting that he be removed from active ministry. The man has psychological problems and is unfit for ministry. If he weren't removed, I would leave the parish informing the Bishop and encouraging others to go to another parish as well."
"Sorry, but this man needs to be sent to Vocational Technical College to learn how to perform small engine repair to support himself."
"Put him in the archives or something, where he isn't in contact with parishoners, IMO."
"[W]hy is he being sent to the nuns, then? Why do they rate such a psychologically disturbed priest? Nuns always get the short-shrift."
I doubt very much that any of the commenters belong to parishes with sinless priests.  But most of us aren't unlucky enough to have our indiscretions make the national news.  If someone wrote CNN stories on every time I was curt or short-tempered with my neighbors, supporters and opponents of women's ordination would finally be united in consensus that, at any rate, Leah Libresco should never be considered for that role.  And they might well conclude that I'd be giving scandal even as a lector, let alone as an Extraordinary Minister of Holy Communion.
It only takes a moment of reflection over my week at least, to feel the truth of Paul's statement in the opening chapter of First Timothy, "This is a faithful saying, and worthy of all acceptation, that Christ Jesus came into the world to save sinners; of whom I am chief."  And I can do a great deal more harm in callousness to the face of God in others than I expect the priest did in his moments in solitude before the 911 call.
In a church that is a hospital for sinners, that reveres as a saint Saul-turned-Paul, there should be nothing unexpected about seeing an admitted sinner in the pulpit.  In Catholicism, the sacraments administered by a priest work ex opere operato, that is, by the work done, not by the merits of the worker.  So, a priest who has had sharp words with the leader of the parish choir in the evening (How can anyone sing "We Are Called" at a dirge-like tempo, when it's a martial song?!?) can validly baptize a baby and anoint the dying in the morning.
There is grounds for increased scrutiny and suspicion when someone is particularly susceptible to a sin that their ministry would exacerbate or put others in harm's way (embezzlement just as much as sexual abuse).  But without any privileged information, I see nothing troubling in the news that this priest has returned to his duties.  And to the commenter who asked why nuns received short shrift in receiving him, I might guess that his bishop correctly guessed that the sisters would be more likely to receive their brother in the compassion we all desire for ourselves.