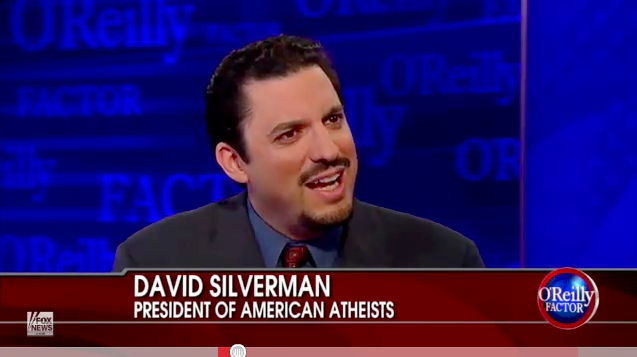 The Conservative Political Action Conference (CPAC) is on the horizon, and, not 24 hours after the American Atheists announce that they'd registered for a booth, they were unceremoniously ejected by the organizers. Over at my day job, I interviewed both Dave Silverman, head of the American Atheists, and Edwina Rogers, leader of the Secular Coalition for America. They're both self-described conservatives, and they talked about why atheists should want to reach out to conservatives and vice versa, as well as what other plans they have for outreach going forward.
Since the American Atheists were booted over "tone," I've also put up a copy of the pamphlets the American Atheists planned to distribute at CPAC, so you can read them for yourself.
Once the news was out, some conservatives began lodging complaints. Tony Perkins, President of the Family Research Council said, "If this is where the ACU is headed, they will have to pack up and put away the 'C' in CPAC," and Brent Bozellclaimed their attendance would be "more than an attack on conservative principles. It is an attack on God Himself."

That may have been the response that Dave Silverman, president of the American Atheists was hoping for, when he told CNN that "The Christian right should be threatened by us." But, as he explained to TAC, Silverman's goal wasn't to attack the conservative movement, but to "change it from within."

Silverman is a self-described conservative, who cited Christie Todd Whitman and Bob Dole as politicians he particularly admires, and found it ironic to be bumped from a conservative conference less than a week after he'd been out shooting with his family…

But the debate over the soul, or rather, the rational faculty of secular conservatism will play out somewhere besides the exhibit hall of this year's Conservative Political Action Conference.
Earlier this week, I had another TAC piece on the disappointing results of the anti-NSA virtual rally #TheDayWeFightBack.
It's nearly impossible to script a bill and shepherd it to passage just from the grassroots. Activism without direct engagement with the usual suspects (Congresspeople, lobbyists, etc.) can look a little like Twitch Plays Pokemon—the anarchic, crowdsourced game of Pokemon that's been running online for the last two weeks. Anyone with access to the channel can input text commands, which the player's avatar will implement in the order received. (He's been walking into walls a lot).

Twitch Plays Pokemon settled into quasi-stability when the game let players vote for the game to be run on one of two modes: anarchy or democracy. In anarchy mode, the game executes every move inputted, but, in democracy, the game's avatar takes whatever step is currently most popular among users. The tech lobby needs to make a similar shift.

Silicon Valley and the privacy advocates they've allied with have already started funneling their mass enthusiasm into more centralized activism. In a December technology summit at the White House, meant to troubleshoot the HealthCare.gov shambles, technology leaders turned the conversation with the President to their concerns about surveillance.

The power of their grassroots (and the size of their market capitalization) bought these web companies a seat at the table. Now, in order to fight back, they'll need to become just as adept at building old-fashioned, smoke-filled room social networks as they are at building casual ones online. The next time they organize a Day of Action, it might be to push through a bill their lobbyists helped draft.
DarwinCatholic is praying a novena for Ordering Lives Wisely by St. Thomas Aquinas, that will end on Ash Wednesday. If you'd like to join her and me, you can find the prayers here.