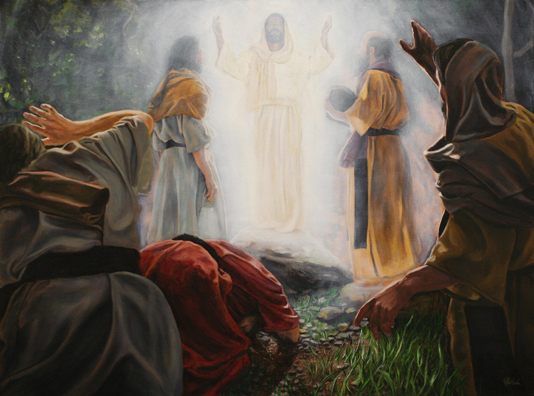 During the homily this past Sunday on the Transfiguration of Christ, I thought the priest was being a little unfair to the disciples on the mountain.  Here's the part of the story the priest was explaining:
Six days later, Jesus took with him Peter and James and his brother John and led them up a high mountain, by themselves. And he was transfigured before them, and his face shone like the sun, and his clothes became dazzling white. Suddenly there appeared to them Moses and Elijah, talking with him.

Then Peter said to Jesus, "Lord, it is good for us to be here; if you wish, I will make three dwellings here, one for you, one for Moses, and one for Elijah."

While he was still speaking, suddenly a bright cloud overshadowed them, and from the cloud a voice said, "This is my Son, the Beloved; with him I am well pleased; listen to him!"

When the disciples heard this, they fell to the ground and were overcome by fear. But Jesus came and touched them, saying, "Get up and do not be afraid." And when they looked up, they saw no one except Jesus himself alone.
After we heard the Gospel reading, the priest said that the three tents that Peter offered to raise would really be tabernacles — enclosures for holy things.  The priest said (as best I can remember), "The disciples wanted to build temples, so that everyone could come and visit.  They knew that fame and money were guaranteed to anyone who controlled such an extraordinary spot, and they wanted to start building immediately."
I made a small face in my seat, since I thought he was slandering the disciples.  I assume that the priest was looking for the reason for the fear the text describes, and the shame one might infer from their prostration, and he guessed that it had its root in worldly greed.
When I've heard exegesis of this passage before, I've heard other homilists say that the real problem is that the disciples were grasping the grace offered to them too roughly.  The God who had come down to met them would no longer be contained within a temple, and the disciples were wrong to try to place Jesus and the prophets within tents.  By trying to plan for the moment after the moment he was in, Peter was missing the full revelation of God's grace and majesty that was happening now.
I'll admit, I'm not sure the disciples did anything wrong in this passage at all.  Our errors can be honest, not always the product of sin.  But an honest error still requires correction.
I have an intense fondness for Peter, who frequently goes out on a limb trying to please God, only to discover he's doing it in the wrong way.  He offers tents on the mountain, he tries to reassure Jesus by denying his mission, he cuts off someone's ear in an attempt at defense that Jesus rebukes, and he falls into the water and flails around when he tries to walk out to Christ.  Peter is always trying to offer something, even though the events around him are perplexing and his teacher is difficult to understand.
In school, it's easier for a student to learn when they present some answer to the teacher, so the teacher has a chance of untangling their reasoning, walking them back to their error, and then correcting it.  By extending himself beyond his understanding, again and again, Peter keeps having the opportunity to be taught by Jesus.  And he doesn't let his struggles or Jesus's corrections cow him.  He keeps stoking his burning desire to serve, and lets Christ reshape it, and temper it into something appropriate.
When he sees Christ transfigured, Peter has an intense desire to offer something in love or reverence.  Christ requires nothing from Peter, so any gift he could offer would be superfluous.  Nonetheless, when Peter moves to give, God is ready to continue giving, providing Peter with a better way to show his well-intentioned love.  It seems all right that Peter's first attempt at a gift was wrong, too possessive of grace to be accepted, since he's willing to loosen his grip when corrected.