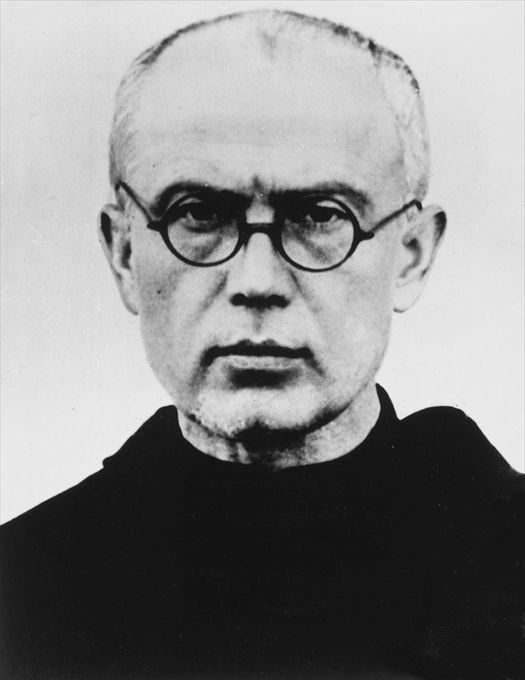 So far, when I've used Jen Fulwiler's Saint Generator to pick a saint to learn about and from for the month, I've mostly pulled saints I hadn't heard of before, from times and places that are very far from me.  Today, when I visited her randomizer, it spun up a saint I already love very much: Saint Maximilian Kolbe.
I think the first time I heard of him was in RCIA (people in the class were supposed to pick out and present lives of various saints at each class), and I had the same kind of sense I do sometimes when reading a passage in a book I know I'm going to keep quoting and referencing.
Saint Maximilian Kolbe was a Franciscan priest who founded the Militia Immaculatae, an evangelization group whose publishing wing gained worldwide influence.  But the part of St. Kolbe's life that stayed with me was the end of it.  Kolbe sheltered 2000 Jews in his priory during World War II, and was eventually arrested and sent to Auschwitz.
One day in the camp, the guards picked out 10 men to be starved to death.  When one of the unlucky men, Franciszek Gajowniczek, cried out in grief, "My wife! My children!" Maximilian Kolbe volunteered to take his place.  For as long as he and the other prisoners lived, he prayed and sang with them.  After two weeks of starvation, Kolbe was the only man left living, and was killed by an injection of carbolic acid.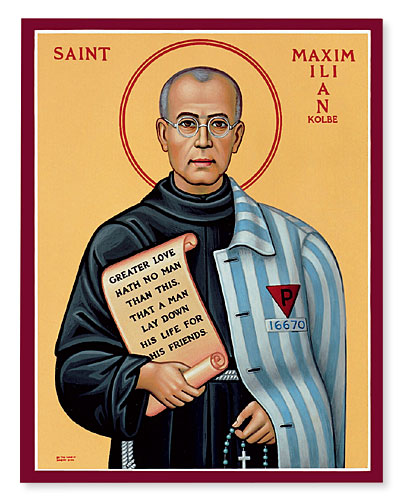 I actually was speaking about St. Maximilian Kolbe yesterday, at our debate on R: Every Dollar Spent on Dog Food is Stolen Directly from the Mouths of the Poor.  As might be expected, the debate followed two major threads: the question of human exceptionalism, and the question of what kind of service we owe to others.
The debater speaking before me had talked about dogs as more worthy of love and care than humans, since they were more steadfastly loyal.  Humans were a bad investment of your time and money, he argued, particularly those who were strangers and/or unstable.  And, since they were worse at returning the love offered to them, they were less deserving of the gift in the first place.
In part of my rebuttal, I brought up St. Maximilian Kolbe, as an example of someone who offered more than loyalty.  Loyalty is usually offered in response to previous care or ties, but, when Kolbe stepped forward to volunteer for a stranger's death, he was acting out of agape — a love that wills the good of the other without any consideration for what will be returned or reference to some prior, particular debt.
Here's one prayer written by Kolbe, that is certainly directed at a kind of service that goes beyond reciprocated love:
O Immaculata, Queen of Heaven and earth, refuge of sinners and our most loving Mother, God has willed to entrust the entire order of mercy to you. I, (name), a repentant sinner, cast myself at your feet, humbly imploring you to take me with all that I am and have, wholly to yourself as your possession and property. Please make of me, of all my powers of soul and body, of my whole life, death and eternity, whatever most pleases you.

If it pleases you, use all that I am and have without reserve, wholly to accomplish what was said of you: "She will crush your head," and "You alone have destroyed all heresies in the whole world." Let me be a fit instrument in your immaculate and merciful hands for introducing and increasing your glory to the maximum in all the many strayed and indifferent souls, and thus help extend as far as possible the blessed kingdom of the most Sacred Heart of Jesus. For wherever you enter you obtain the grace of conversion and growth in holiness, since it is through your hands that all graces come to us from the most Sacred Heart of Jesus.

V. Allow me to praise you, O Sacred Virgin

R. Give me strength against your enemies

Amen
Today is the fifth day of my Novena to Mary, Undoer of Knots, and you're welcome to join in.